Image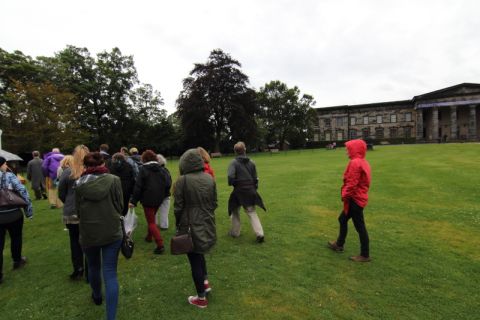 Production
Nicholas Bone (Director, Writer), Sans facon (design), Verity Leigh (Producer), Jonny Reed (Stage Manager), Katherine Nesbitt (Assistant director), Alice Cooper (front of house)
A Walk at the Edge of the World is a two-part performance that begins with a twenty minute walk. A rumpled middle-aged man (Ian Cameron), greeting us like old acquaintances, explains that while recovering in hospital from a hip replacement operation he spent much of his time dreaming about the walks he'd done and would like to take a gentle walk in silence with us.
The piece, devised by cross-artform producers, Magnetic North, on this occasion is a walk I know well - a pleasant circuit that begins at the Landform pond at the front of the Scottish National Gallery of Modern Art, passes through one of the more expansive and leafier stretches of the Water of Leith, and loops back via a steep staircase to the Studio behind the gallery.
The gentle amble alongside the burbling river (or time spent watching similar video for those who don't feel up to walking) is a way of preparing the mind for the subsequent performance back in the theatre, which takes the form of an illustrated talk.
Our man, in baggy cords and jacket, takes a stance behind a podium, and proceeds to tell us how in 2001 he began walking "with a consciousness of the power it gives me".
At first, he followed routes from his late mother's walking book, before growing more adventurous and discovering the thrill and sense of freedom of taking random routes, by the sea, or walking at night.
Writer-director Nicholas Bone's text is an enjoyable ramble. It weaves together the story of one man's discovery of the simple pleasure and recuperative powers of walking with fascinating tales of human self-reliance in extreme situations. For example, he recalls, how when becoming marooned on a tidal island his situation reminded him of the strange tragedy of Donald Crowhurst. Crowhurst, famously, entered a solo, non-stop, around-the-world yacht race in 1968, lost his way, but pretended that he was still competing by completing a second log book.
Naturally, there is an undercurrent of environmental sensibility - whether it be finding a walk from his mother's book blocked by a motorway, or the passage about the submerged tracts of Doggerland and Britain's 40 tidal islands which bring to mind our vulnerability to future sea level rise. But Bone's text is subtle and generous in its eco-centricity, interested more in sharing ways of experiencing our surroundings, rather than ruminating on society's ecological myopia and shallowness.
Cameron's persona exemplifies its sensitive tone, a genial, companion figure whose disarming vulnerability, both physically and psychologically, encourages greater intimacy with the audience. Cameron gives the sense that he is barely in character, as he recalls his amateur expeditions by foot of recent years with boyish enthusiasm, and even in occasional moments of distraction when touching on his distant relationship with his religious mother. It's a mark of his acting abilities that the blurry, black-and-white family photographs of himself with his evangelical parents, could or could not be him. Even when the ancient slide projector sticks - it's not quite clear whether it's a scripted moment or not.
While Cameron's performance carries you along, the poetic talk format is both its strength and its limiting factor. A man and a slideshow, albeit with occasional small deviations from the formality of a presentation, is not particularly dramatic. On the other hand, on exiting the small studio theatre, each audience member is given a paperback copy of the text, a welcome memento that stands up to further reading.
Til 24 Aug (not 18), 17:00; £12 (£8)