Image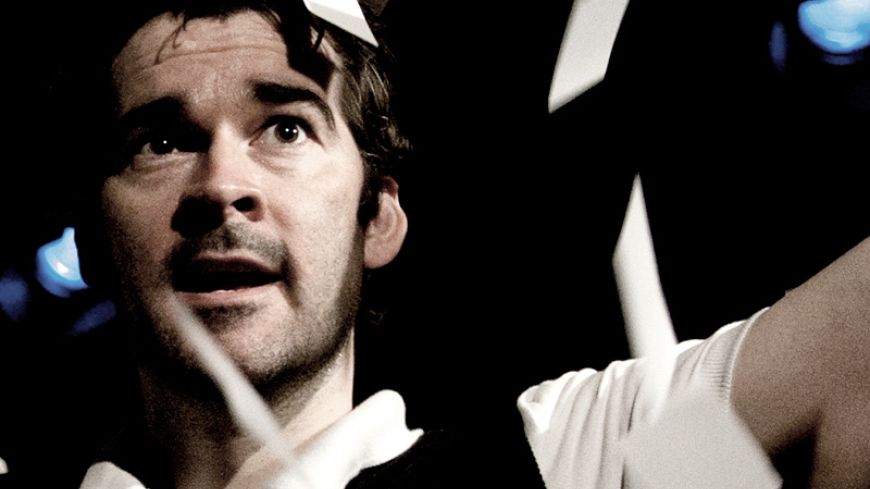 Production
Tigco in association with United Agents
Once in a while, you see a comedian who is so perfectly suited to performance, channelling such pure talent, that you feel they have been doing this since they were born; Adam Riches is just such a performer. His show, long since totally sold out, is a masterclass in character comedy.
Riches spends most of his time on stage in three vastly differing characters, all wonderful creations: a spanish tetherball champion, famous actor Daniel Day Lewis, and a mysterious blind mastermind (the boardgame) grand master. Though helped along by two very long suffering extras, who Riches consistently and hilariously humiliates throughout, Bring me the Head of Adam Riches is that rarest of beasts - a solo sketch show. The way Riches gets around the limitations of having only one speaking role is through frequent and, frankly, merciless audience participation.
Fair warning, if you go to this show, there is every possibility you will be picked on by Riches and involved in one of his inevitably bizarre and just slightly twisted scenes. The usual wariness about sitting in the front row definitely applies here, but, as this reviewer found out, just as much risk is carried by arriving late. The participation involved here may well involve getting wet, a smoke machine, possible sexual harrassment and, most importantly, a massively fun time.
And it is fun which is the order of the day here - Bring Me the Head of Adam Riches is quite simply the most fun you are likely to have on The Fringe without being subject to arrest. He is a brilliant performer, his written material is intense, revealing surreal brilliance, and his improvisations are seamless and razor sharp.
This man should be on television, on every channel, teaching some of what has passed for character comedy recently (I'm looking at you... erm... Al Nelson and Lee Murray) how to raise making people laugh to an artform.
If you get a chance to see this man, do so without hesitation.
Show Sold Out.
Show times: Til 29 August, 16:45. Tickets: £8.50 - £11