Image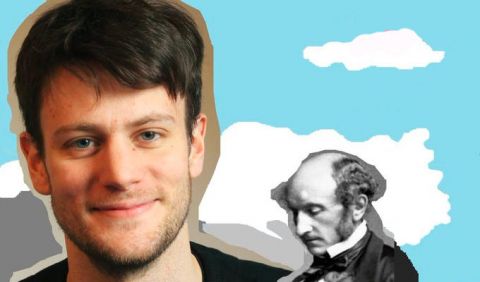 Praise the Fringe gods, cellar comedy is back in Edinburgh. Walking over to 32 Below from Assembly Gardens for Alex Farrow: Philosophy Pig, there was a flyerer standing outside in the pouring rain; numerous posters were plastered up along the walls of the entryway leading down into the venue. It felt, finally, like the festival vibe we all know and love.
Welcoming a sold-out audience, Alex Farrow (Philosophy A-Level, Bat Chat) asks the crowd if they're here for the philosophy or the comedy - turns out it'll be an equal share of both in this "laugh and learn". As a philosophy teacher during the pandemic, Farrow virtually taught 27 sixteen year old black squares and has come away with quite a few more jokes in his arsenal!
In this, his second stand-up hour, Farrow touches on Zoom fatigue, reconnecting with nature, man versus machine, the animal side of being human and quite a hilarious exploration into the world of bats (they've got a "bat" reputation as of late, but Alex will do his part to offset this), among other musings and facts that are both hilarious and shockingly true. Puns and witty bits of niche humour abound in the most delightful way.
An hour of laugh-out-loud, cerebral silliness, topical but never heavy, Alex Farrow with Philosophy Pig is clever and charismatic.
Runs from 9-29 Aug 
10-11 Aug, 12:45 and 17:15
12-29 Aug, 12:45
16+ (Guideline)
Tickets here: https://tickets.edfringe.com/whats-on/alex-farrow-philosophy-pig