Image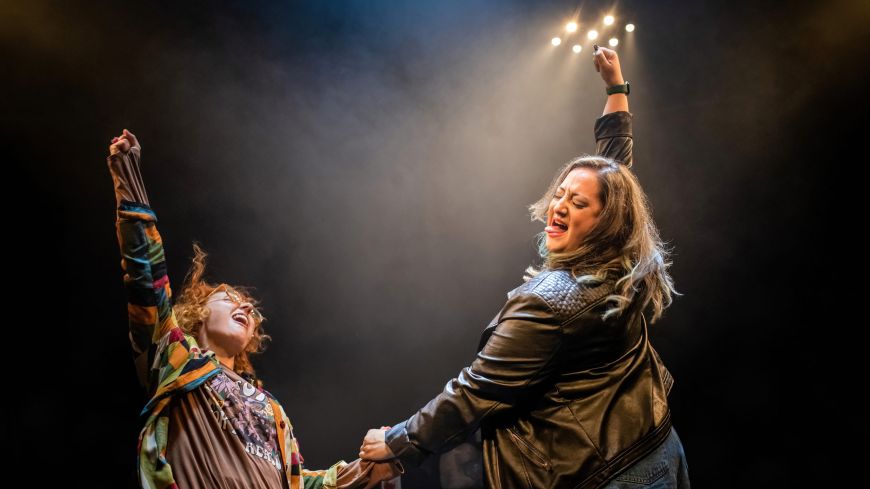 Company
Francesca Moody Productions, Kater Gordon, Wessex Grove, Fiery Angel, Underbelly
Production
Jon Brittain (Book & Lyrics / Co-Director); Matthew Floyd Jones (Music & Lyrics / Musical Director); Fabian Aloise (Co-Director & Choreographer); Cecilia Carey (Set & Costume Design); Tingying Dong (Co-Sound Designer); Dan Samson (Co-Sound Designer); Peter Small (Lighting Designer); Charlie Ingles (Orchestrator); Charlie Martin (Associate Director); Caitlin Morgan (Associate Musical Director); Bethany Gupwell (Associate Lighting Designer); Ed Borgnis (Production Manager); Inga Davis-Rutter (Musical Supervisor); Anna Dixon (Costume Supervisor); Charlotte King (Props Supervisor); Gillian Greer (Dramaturg); Annelie Powell CDG (Casting Director); Alice Walters (Assistant Casting Director); © Photo – Kathy and Stella Solve a Murder
Performers
Bronté Barbé (Kathy); Rebecca Hinds (Stella); Imelda Warren-Green (Erica & others); Jodie Jacobs (Felicia & others); TJ Lloyd (Justin & others); Jacob Kohli (Ensemble, Cover Justin); Chelsea Hall (Offstage Swing); Sarah Pearson (Ensemble, Swing)
A joyous night of true crime solving, podcast-making, comedy musical theatre gold, this is the show you never knew you needed but do. Our heros Kathy and Stella are heart-warming in their earnest love of true crime, and endearing as they are clearly clueless in how to go around solving a murder. Despite this, they give it their all and take the audience along with them on the journey.
What works with this show is the sheer energy and joy that comes across from the cast and musical team: tongue is firmly in cheek and yet that does not take away from the heart of humanity that comes through the storytelling. Friendship and finding those who match your quirky self are important: without those who understand us and stand by us, we are lost. Along the way Kathy and Stella learn important lessons about each other, all of this punctuated by murder and songs about the murder.
The humour in particular works very well in its execution because it does not shy away from the difficulty of death, but instead leans into the absurdity that can come from feeling sad about a stranger's murder, but also wanting to know more (true crime mystery). The entire cast is strong in talent and watchability, with Jodie Jacobs in particular a scene-stealer for all the best reasons (go see it to find out why). Without the complete commitment to heightened character, and the believability of those characters, this show would not work. The songs are punchy and catchy, a delightful complement to the storyline and work exceptionally well, sung with charisma by this multi-talented cast. If you can get a ticket – shows have been very busy - you will not be sorry. 
Show Time: 20-27 August (not 21) @ 19:30
Underbelly George Square
Ticket Prices: £15.25-£19.25
https://tickets.edfringe.com/whats-on/kathy-and-stella-solve-a-murder
© Photo – Kathy and Stella Solve a Murder
Accessible entry: Access into the venue with a wheelchair can become restricted once the majority of the audience have been sat. Please turn up with ample time and make yourself know to FOH so you can be admitted first to ensure ease of access. There are up to 20 steps if not taking the accessible entrance. Wheelchair access type: Level Access. Stairs: 11- 20. Age: 12+ (Guideline)