Image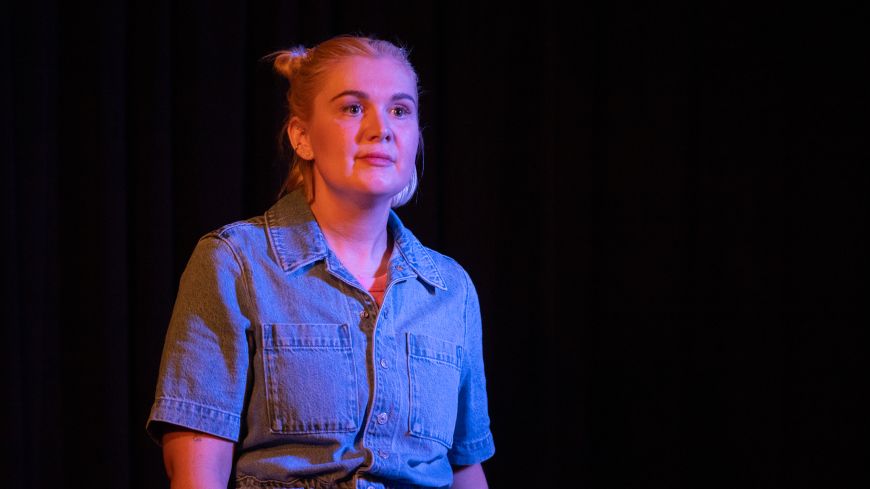 Company
About That Productions
Production
Kirby Lunn (Writer, Songwriter); About That Productions (Producers)
A funny, charming play with songs, Messhead is about an Australian former child star 'Shazza Robinson' who goes to America to make it on the world stage, but then discovers the challenges of not being the celebrity she believed she was. This darkly comedic play has a deeper meaning in its exploration of the toxicity behind celebrity. Cleverly written, it is outwardly light and fluffy with much silliness, but under the surface, its points on the expectations and demands of the industry are spot on, highlighting the fleeting nature of stardom and what is valued.
Kirby Lunn, the writer and performer of the show, is a talented actor and singer, and her improvised one-liners and quips are very funny. From managing the late comers with self-deprecating ease, to blips along the way, nothing fazes her. She handles the twists and turns in the plot with skill and her snippets of song feel not quite long enough, such is her ability to engage us with her storyline. Highlights include 'Disappointing Your Mum', with a catchy tune but so relatable, and 'Google Your Diagnosis' which is hilarious and again so relatable (of course you do).
With the noise of the air conditioner, it can sometimes mask the quieter moments, but this is a small quibble. In this tiny corner of the Fringe you will laugh, cry and be reminded what is truly important in life. This is the play you did not know you needed - catch it while you can.
Show Time: 27 August @ 19:00
Paradise in Augustine's
Ticket Prices: £8-£10
https://tickets.edfringe.com/whats-on/messhead
Accessible entry: The audience enter from George IV Bridge, with a couple of steps to enter the building. A temporary ramp is also available. The Snug is located downstairs, via a single width staircase. The audience enter in the side of the auditorium. The front row is all level access. Wheelchair access type: Not fully wheelchair accessible. Stairs: 20+ Age: 16+