Image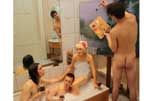 Company
All inc in association with The Cave of the Golden Calf
Production
Lenka Horinkova (director), Andrew Brown (producer), Mark McLeod (sponsor), Steven Dow Cowan (writer)
Performers
Steven Dow Cowan (James, producer), Dale Cooper (Francis), Campbell Lawrie (Richard), Kerry Dandie (Lorraine) Bryan Lon (Nigel), Nijinksy Reid (Turner), Duncan Baddon (Renee, pianist), Paul Meadows (Peter), Tom Martin, (Edward), Cat Aclysmic (Margarita), Daniel Cowan (Perry)
This comedy drama about a Fringe theatre company is actually based on real events which took place during the Edinburgh Festival each August between 2005 to 2008. A programme giving plot storyline and cast list is available (so do ask for one as they are not readily offered) which may prove invaluable.
Founded in 1912, the Cave of the Golden Calf in Soho, London was legendary for avant-garde cabaret turns, song and dance with drinks served until dawn. At the 2005 Edinburgh Fringe, in the Edwardian ballroom of The Royal Scots Club, this cabaret show was revived with great panache presenting an eclectic blend of international singers, musicians and burlesque performers.
Andrew Brown, art gallery and theatre entrepreneur, was MC introducing each act with debonair style and wit. Receiving 5 star reviews this Cabaret was deliciously camp - often outrageous - entertainment. (I was privileged to have witnessed these extraordinary shows as an Edinburgh Guide reviewer.)
The Golden Calf also created a glamorous social milieu of intertwining relationships for those taking part and in the wings. "Queer" is a semi-biographical satirical comedy based on the lives and loves of these burlesque artistes, artists, producers and friends set in and around the New Town flat of Francis (alias Andrew Brown).  We follow the auditions and rehearsals surrounding the Cabaret as well as drink fuelled parties and a diverse range of sexual brief encounters.
The ensemble of ten actors show great enthusiasm in narrating the story, although most of the amateur cast sadly lack any acting skills or stage presence whatsoever, with poor vocal delivery.  A few stand out with a sense of style - Dale Cooper as Francis, who impersonates Andrew to a tee in character, charm and mannerism, Steven as James, Campbell as Richard and Kerry as Lorraine.
What might assist the understanding of the plot would be for Andrew to revive his debonair role as MC, (with silver topped cane and glass of brandy) to set the scene and introduce the characters at the start of the play.
For those who did enjoy the Cave of the Golden Calf cabarets (read my Cave of the Golden Calf review 2005 and Cave of the Golden Calf review 2007), you may well appreciate the essence of this, albeit seriously flawed, fun and farcical show.
Times: 25-31 August, 11pm