Image (reusable)
Image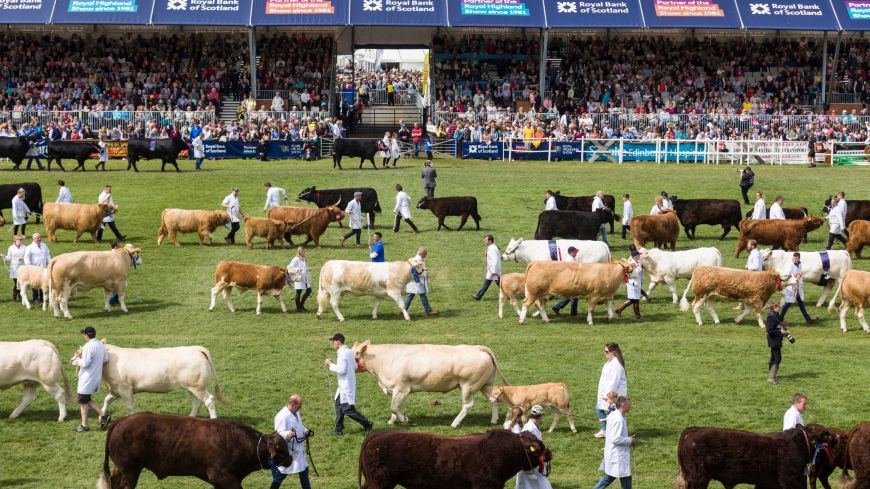 Around 175,000 visitors attend the four-day annual trade show for those involved in the farming, food, and countryside sectors. Huge numbers of different classes of pigs, cows, horses, and other livestock are on parade as well as farm machinery and locally grown produce. There's also a broad range of events for the lay person, with culinary demos in the Food Hall being one of the big draws.
The displays of rural skills and sports, such as fly fishing, the ever-popular dog displays, falconry, and terrier racing are added attractions. The trade shows include home-grown fashion items made of cashmere, tweed and tartan and rugged outdoor wear.
For those enthusiasts and others who might have difficulty in telling apart one breed from another, the livestock displays and parades at the Royal Highland Show are the big attraction. It's an opportunity to get up close to hundreds of cattle, sheep and horses. The animals come in all shapes and sizes from tiny bantam hens to impressive teams of giant Clydesdales in full harness.
For the younger visitor – under sixteens are admitted free in the company of an adult - there's the Children's Discovery Centre, run by the Royal Highland Education Trust, which has hands on activities from grinding flour to cooking and milking a cow (not a live one).
Among other attractions, in the Countryside Area, you can watch the handling skills of the gundog trainers as their spaniels and Labradors flush and retrieve. There are also demonstrations of traditional rural crafts such as fly-tying, wood turning, and saddle-making, gun dogs, wheelwrighting, willow weaving, bagpipe-making and wildlife photography.
The Forestry Arena includes lumberjack displays including pole climbers, bike displays, axe throwing and feats with chainsaws.
The RHASS
The Society was established in 1784 to promote the trade, agriculture, poetry, language and music of the Highlands and Islands of Scotland.
The first Show was held in Canongate in the Old Town in 1822. Today, the Society is principally known for the Royal Highland Show although its activities also include making awards and grants, and promoting aspects of rural life in Scotland including agriculture, horticulture and forestry. The Royal Highland Education Trust fulfils this role through links with Scottish primary schools.
Tickets
Adult tickets on each of the four days are £34.65 (2022 price).
Children under sixteen go free if accompanied by an adult. Car parking and buses available.