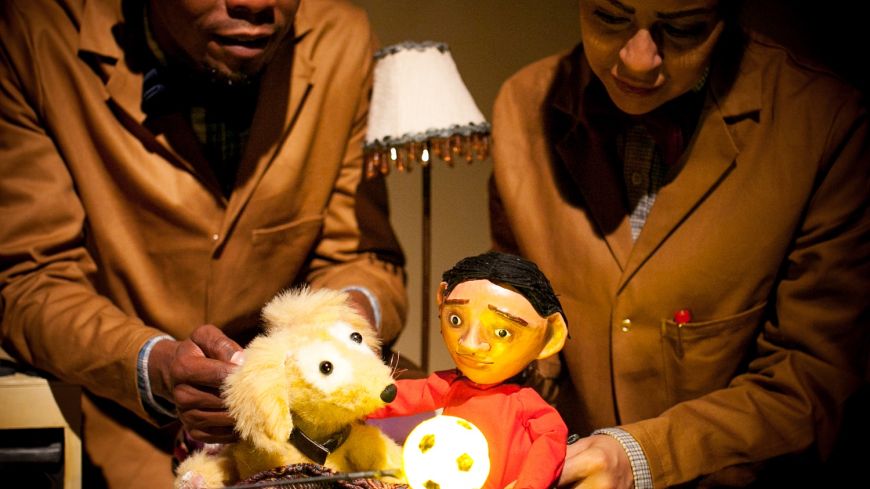 Company
Vision Mechanics and Haya Cultural Centre
Production
Symon Macintyre (artistic director/producer), Kim Bergsagel (lead designer), Kate Bonney (lighting design), Hala Khoury (dramatrurg), Yarob Smarait (composer), Fiona McAndrew (animation), Niroshina Thambar (musical director)
Performers
Hanin Awali and Mohammad Awad
Taking off shoes and heading stocking soled in to an enticing Bedouin tent on the stage of the Brunton stage already holds intrigue for adults and curiosity for the children. Inside, wee ones are invited to sit on cushions with seats provided at the back for bigger audience members. Unfortunately, some adults were allowed to sit in the front row, meaning a restricted view for any small people in the row behind.
The experience starts off beautifully with the tent's roof becoming a star- studded sky where the stars signs like the dog, the bear and the scorpion come to animated life as if by magic. The two Jordanian performers/puppeteers start to count the stars and realise one is missing. Some clever tricks find them trying to catch this naughty, elusive light. So far so good.
Next, we have a table top puppet scene where a man and his child live together in their modest home, that's been created with intricate detail. We witness the daily round of their having breakfast, his donning his hard hat, kissing his child goodbye to go off to work, leaving the child with no company other than the old woman who looks as though she does the laundry as she carries a basket. One day, the routine is broken when a stray dog appears in the child's life, bringing love and companionship to an otherwise solitary life.
The connection between the almost wordless narrative's double strands – the lost star and (eventually) the lost dog - are not obviously connected and so feels esoteric. While each strand is enchanting, they do feel as though they exist in isolation with the link to the specific dog star feeling rather cryptic.
The piece's interactive moments, like when the dog puppet nuzzles wee faces, goes down a treat and the illusion of running through a projected country scene on to tent walls is most effective, if quite brief. Composer Yarob Smarait provides wonderful Middle eastern style music throughout that adds to the atmosphere created by the gorgeously designed tent.
Little Light is the first ever Scottish/ Jordanian co-production involving Edinburgh puppetry and installation theatre company Vision Mechanics and Haya Cultural Centre, Amman. Part of this year's Puppet Animation Festival, it contains a range of accomplished puppetry skills as well as music, shadow puppetry and projected visuals and animation. After its Scottish tour Little Light will transfer to Jordan.
Saturday 7 April at 2pm age recommend 5+ tour continues