Image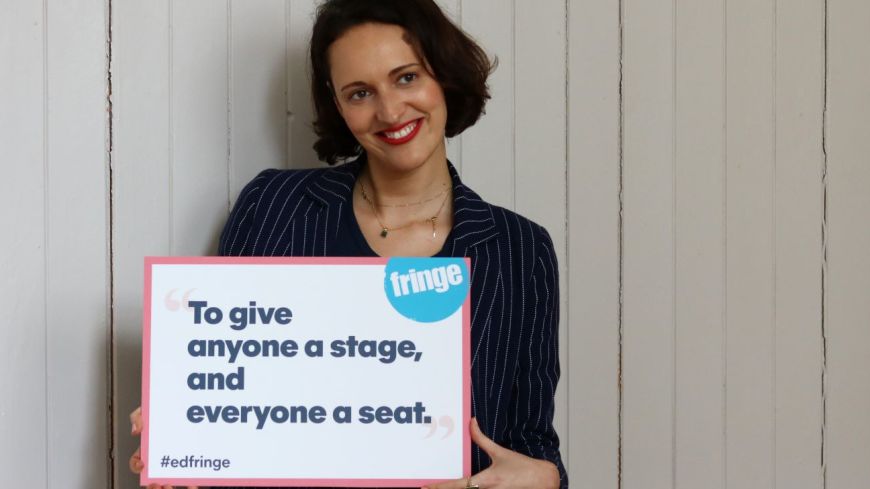 The Edinburgh Festival Fringe Society has announced a new fund to support struggling, UK-based Fringe artists. The "Keep it Fringe" fund, which is being led by Fringe Society President and Fleabag creator and star Phoebe Waller-Bridge, will support fifty shows coming to Edinburgh this August with funding of £2,000.
The fund is supported by the Fleabag for Charity campaign, which raised funds during the pandemic through streaming the National Theatre Live production of Fleabag, and funds donated to the Fringe Society through individual donors and the Fringe Society's partnership with Edinburgh Gin.
The aim of the fund was laid out in a release today: "Not every artist has the same start in their career, but we believe that shouldn't stop anyone having access to a stage to showcase their talent at the world's best-loved festival. There is no Fringe without artists; without risk-taking, and without experimentation. Rooted in our vision to give anyone a stage and everyone a seat, the fund sets out to protect artists' prospects, by removing some of the growing barriers to performing."
Honorary President and Fleabag star Phoebe Waller-Bridge said: "For a creative, the festival is one of the most unique places on the planet to launch work, meet other artists and be discovered by audiences, agents, producers and the media. For me, today's announcement is incredibly personal. Edinburgh Fringe gave Fleabag a game-changing platform for everyone involved and we are thrilled that the show can continue to pay-it-forward to the creatives of tomorrow and contribute to those who might not otherwise have the opportunity to take their work to this amazing festival".
Shona McCarthy, Chief Executive of the Edinburgh Festival Fringe Society called the new award "a very direct way for us to give some support for artists performing at this year's Fringe". 
 
"This fund is a first step in what we hope to be an ongoing opportunity for Fringe artists. We will be actively encouraging new donors and Fringe alumni to work with us through this simple initiative, to get support out quickly and effectively to give someone a stage," she added.
"We recognise that these funds won't make or break a show but should provide a little bit of financial help to those who want to take part in the Fringe."
An assessment panel of external specialists will "identify those that demonstrate the greatest need and the boldest ideas". 
The guidelines for "Keep It Fringe" fund state: 
"Applications should demonstrate how the show captures the defiant spirit of the Fringe, taking advantage of the Fringe as a unique platform to tell untold stories."
"Funding will be prioritised to artists who don't have an existing high profile and artists who face barriers to funding/the arts more generally."
Applications for "Keep It Fringe" funding open at 12pm on 10 March 2023 and close at 12pm on 24 March 2023.
Award recipients will be notified around 31 March 2023.
The Fringe Society team will be hosting an online webinar on Wednesday 08 March at 4pm, where artists will have the opportunity to find out more and ask any questions they may have. This live webinar will be available to watch on Fringe Connect after the event.