Image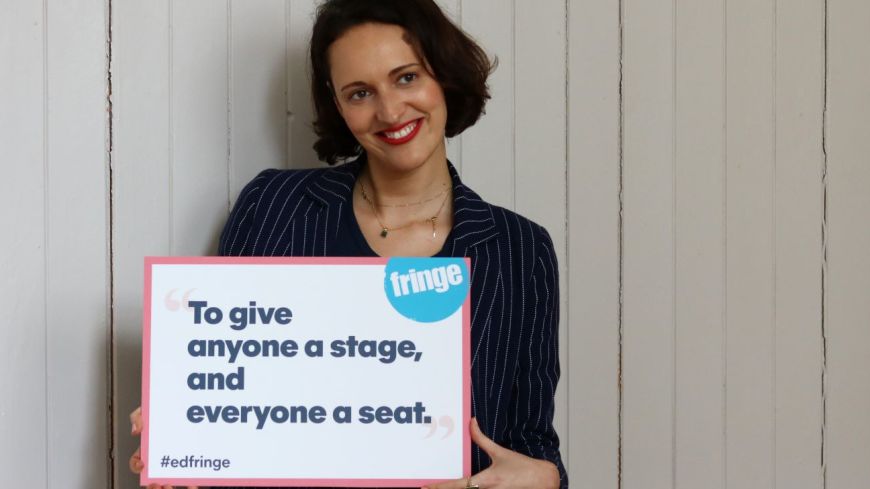 The 50 recipients of £2000 grants from the inaugural "Keep it Fringe" fund, led by Fringe Society President Phoebe Waller-Bridge, have been revealed.
The fund is designed to help more artists and companies cope with spiralling costs at the Edinburgh Fringe. 
The Fringe Society said that in the short window between when the Keep It Fringe fund was announced on 7 March, and the closing date on 24 March, there were 677 applications for the bursaries.
Applications were reviewed by two assessors, who were on the lookout for shows that "capture the defiant spirit of the Fringe and can take advantage of the festival as a unique platform to tell untold stories at all stages of their career".  
The shows that have won support cover a range of subjects from climate action and OCD to parenthood and migration, and run the gamut of Fringe genres - comedy, musicals, stand-up, spoken word for children, plays, ventriloquist horror, immersive theatre for one audience-member at a time; drag, performance art, variety, solo work and pole dancing. 
Nearly one in two of those selected are disabled or have a health condition, with one in three coming from a working-class background.   
Funding will be used to cover a variety of expenses, including childcare, transportation, PR, and helping to meet living wage pay; supporting access costs for artists, and the production costs associated with performing.  
The successful recipients will present work across a range of spaces in Edinburgh and will offer a mix of paid-for and free shows. 
"The number of applications received for the Keep it Fringe fund reflects the current economic climate, and a need for significant support for artists coming to the Fringe," said Shona McCarthy, Chief Executive of the Edinburgh Festival Fringe Society.
"The festival continues to be one of the most important cultural events in the world, and a platform for artists to gather, network and meet with industry partners as they explore future career possibilities. Our team continues to advocate for those across the Fringe ecology, and as we move at speed to this year's Fringe, we encourage individuals and companies to reach out to our Artist Services team to see how we can provide further support."
Additional perks
In addition to the £2,000 financial grant support, the 50 Keep it Fringe recipients will receive an additional package of support for their shows.  
TikTok are donating £50,000 worth of advertising credits for artists to boost their account content and raise their profile in-app in the run up to, and during the Fringe. 
Recipients will also receive a return ticket from Lumo for travel to and from Edinburgh from any of the rail operator's UK hubs.
About the Keep It Fringe fund
Applicants were asked to answer three short questions about their show and were invited to apply by other means if the form presented any sort of barrier to them. 
677 applications were received in total 
23 assessors were involved in assessing the applications, with two reviewing every application 
The 50 Recipients of the Keep It Fringe Awards 2023 
Abby Vicky-Russell  
Alex Gibbon  
Alistair Hall  
BBD Productions  
Ben Macpherson  
Ben Target  
Best in Class CIC  
Brigitte Aphrodite  
Bristol Performance Movement
c21 Theatre Company Limited  
Cerys Bradley  
Clementine Bogg-Hargroves  
Down the Lens  
Edith Alibec  
Elisabeth Gunawan / Saksi Bisou  
Ella Lovelady  
Emerge Production House  
Fiona Ridgewell  
Flat & the Curves  
Gara in association with Jess Donn  
Hey Thanks! Theatre Company  
Jaimee Aislyn de Witt  
Joe Leather  
Journey to the East Productions  
KlangHaus  
Lachlan Werner  
Lee Kyle  
MarianaMalena Theatre Company  
Martin Mor Comedy  
Matt Hutchinson  
Max Percy + Friends  
Moon Loaf  
Mr Brake Down 
Mwansa Phiri/Visual Sauce  
Olly Gully  
Peyvand Sadeghian  
Prentice Productions with Kit Sinclair  
Rachel E. Thorn
Ready Cett Productions  
Riss Obolensky and Eloise Poulton  
RoguePlay Theatre  
Sian Davies  
Simona Vrabcova  
Slade Wolfe Enterprises Limited  
Social Convention  
StammerMouth  
Stephen John Catling  
Suhaila Suhaimi  
The Thelmas WMC  
Tom Mayhew