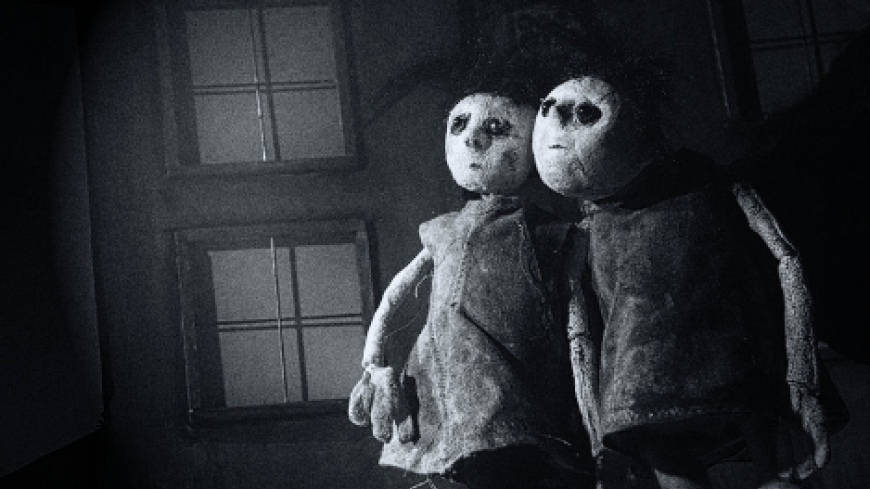 Production
David Hall (soundtrack narrator), Bob Lockwood (sound & performer-musician), Nate Toon (soundtrack child narrator), Jim Bond (set design & construction), Liz Walker (writer, set design & construction, puppet making),
Performers
Liz Walker (performing puppeteer), Bob Lockwood (performing puppeteer)
Beguiled is a double-bill of two haunting and imaginative pieces by surreal visual theatre company, Invisible Thread.
CATMOTHER
Everyone loves a secret, but, in this macabre fairytale, curiosity will do more than kill the cat. Cautionary tales are intriguing, with their innocent 'Once Upon a Times' and embedded horrors. CatMother pushes from intriguing to fascinating, using puppetry, narration, audience engagement, and a live double bass score to create a world where "naughtiness" has some hairy consequences.
This forty-five-minute production is performed by two puppeteers- one the creator and the other an audience member, briefed just before the show on the hefty role to play. The recorded narration of the "Story" plays both the voices of the puppet children and the stage directions as the audience member performs the directions. Here are the elements of chance and spontaneity that come with successful audience engagement; however, there is also this display of make-believe reawakened. Abolishing any fourth wall, this is true child's play, weaving in and out of "pretend".
The part fable/ part theatrical experiment is inventive and utterly original, not least because of the mechanical dollhouse. Using boards, shadow, and a bicycle chain, the puppets move through their world. The gaunt mother puppet as severe as a Burton character resides in her gloomy house, each board tearing away to create a new scene of a forest or a fairground. The live double bass score serves for more than atmosphere, it brings alive the sounds of the house and the scratching of the Catmother's claws, the bow and puppeteer moving in tandem, not a nuanced moment forgotten here by the creators from Invisible Thread.
Elements of magick within this twisted, darkly comic tale of the Catmother make this a consuming performance for lovers of works like Coraline or the The Brothers Grimm. Yes, Catmother is a children's fairytale of sorts...Why tell children scary stories? As Neil Gaiman says, "The point of telling scary stories is innoculation...To take, and deal with, a little bit of the things that scare us."
LES HOMMES VIDES
In this abstract/absurdist compilation of vignettes, we see a piece that ranges from silly to stoic. Clunky puppets with constant, dumbfounded expressions engage in charmingly choreographed slapstick with wooden planks. Further down the rabbit hole, we see two smaller puppets, monk-esque in their flowing white gowns and resting behind the desk made out of the wooden planks. Audience members are called forward to collect their raffle winnings if they hold the lucky number. Doll heads now overcome the wooden planks, taking on a more sinister feel...the monologue read is cryptic; combined with the actions of the dolls, it nods to a sense of sadness that childlike wonder is most often overtaken by greed and consumerism.
In twenty-five minutes, we see things like sand, wooden planks and figurines become rather extraordinary. But, as Pam Beesly reminds us, "There's a lot of beauty in ordinary things. Isn't that kind of the point?" This double bill of table-top puppetry called Beguiled had this reviewer totally bewitched.
Please visit invisiblethread.co.uk for more information