Image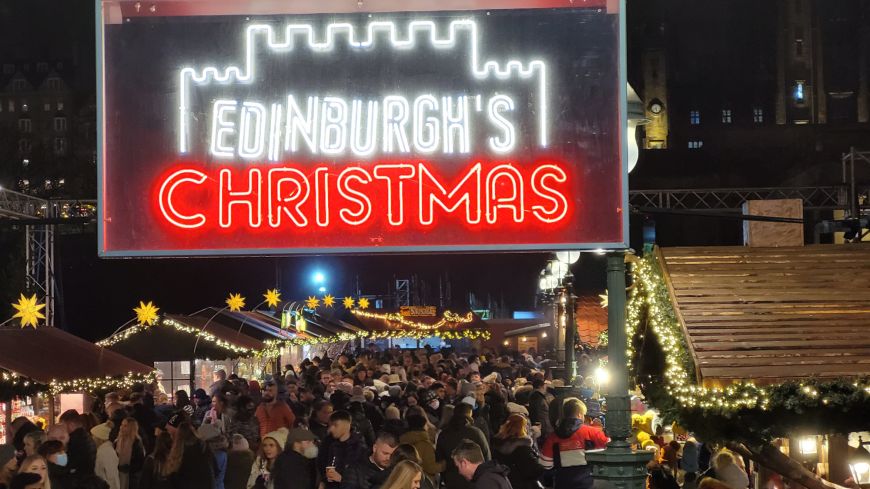 Edinburgh Castle closed yesterday and cancelled the Sunday night show of Castle of Light after staff members contracted Covid-19.
Ticket-holders arriving at the Castle entrance for the show last night found the castle box offices dark, a small signpost apologising for the closure "due to circumstances beyond our control", and a staff member turning people away. 
"We are sorry to let you know that we will be temporarily closing Edinburgh Castle as of 4pm today (Sunday 19 December) following a number of staff members testing positive for coronavirus. All members of staff identified as close contacts are now self-isolating as a precaution," a message posted on the Castle's Facebook page said.
"Our Castle of Light: Hidden Treasures event will be cancelled tonight, as are our Christmas afternoon teas tomorrow. The Castle will be closed to allow deep cleaning to take place, and we hope to reopen on Tuesday 21 December."
"We would like to reassure visitors that robust physical distancing and hygiene measures have been in place on site," the announcement continued.
"We understand how disappointing this closure will be for many, but we always put the safety of our staff and visitors first. Any visitors with pre-booked tickets for the castle or either event will be refunded and will receive an email in due course. 
 
We will provide an update when we are able to reopen the Castle."
The Castle of Light - which runs Thursdays to Sundays - is the latest Edinburgh event to be hit by the pandemic, as infections have risen with the emergence of the omicron variant of Covid-19.
Edinburgh Playhouse was also forced to make last-minute closures of its Christmas shows White Christmas "due to Covid" on Saturday and Sunday. A crowd of theatre-goers had to be turned away.
Yesterday, the Hogmanay Snow Ball Ceilidh at the Assembly Rooms and the Hogmanay Snow Ball Dinner and Ceilidh at the Sheraton Grand in Edinburgh were also both cancelled due to Covid-19 fears.
"We are so sorry for the disappointment and will write to each person who has booked to offer a refund or an incentive to carry forward your booking to next year when the events will return," said a notice on the event website.
Summerhall took a pre-emptive measure, last week, of closing down for the rest of the year, postponing Christmas and Hogmanay events til August.
Summerhall's Facebook page announced: "Due to the ongoing situation surrounding the COVID-19 pandemic, we are sorry to announce that Summerhall's Hogmanay party will no longer be taking place this December. *However*, after almost two years of cancellations and postponements, we believe that we all deserve a party more than ever. So, instead of cancelling another Hogmanay, we've decided to postpone this year's celebration until August! 🥳🥳🥳
We're still working out the final details for August's delayed Hogmanay party, but you can expect enough music, dancing, and entertainment to make up for the last two years of disappointment and postponements."
While there are concerns about the rapid spread of the new omicron variant in Edinburgh, people have been gravitating in large numbers toward outdoor activities and events in the city. 
Crowds of people have flocked to East Princes Street Gardens each evening for Edinburgh's Christmas Market and the George Street Ice Rink has been doing brisk business with skaters of all ages and levels.
Underbelly, the organisers of Edinburgh's Christmas and Edinburgh's Hogmanay, announced last week that anybody attending the Torchlight Procession on the 30th December or the Party at the Bells (the Hogmanay street party) on Princes Street on 31st December will need to show a negative lateral flow test before being admitted to the event.