Image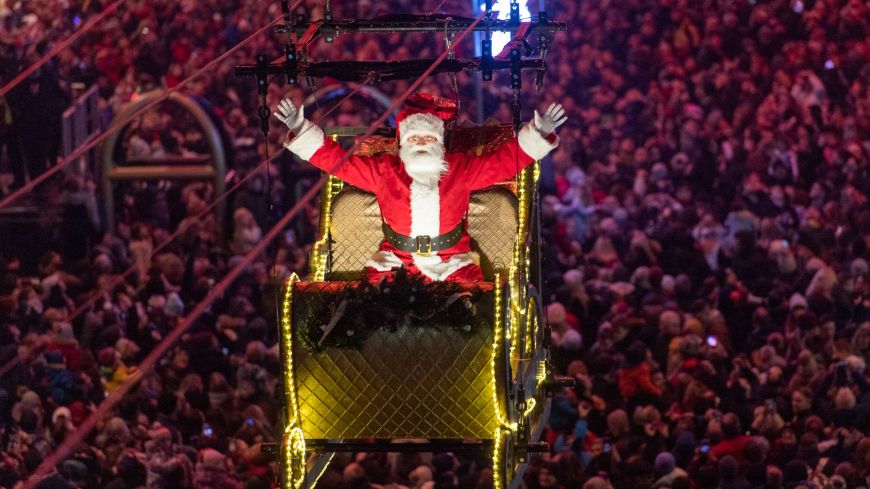 A crowd of around 12,000 people packed into the Royal Mile to get Edinburgh's official Christmas festival underway with the annual Light Night celebrations this evening.
Local choirs sang to the assembled throng from 3.30pm before Santa appeared waving from a brightly-lit sleigh above the crowd.
With pyrotechnics streaking the Old Town sky, the odd flutter of flakes, the white-bearded one cruised up the Royal Mile in his cable-car sleigh, to join the Norwegian Ambassador to the United Kingdom, Ambassador Strommen and the Lord Provost.
At 5pm, Santa switched on the lights decorating the Christmas Tree on the Mound, which, as has been customary since 1986, was gifted by Norway.
In previous years, Light Night has taken place on George Street and prior to that on The Mound. This is the first time it's taken place on the Royal Mile.
The free event hosted by Forth One Breakfast Show's Arlene Stuart saw five local groups showcasing their talents on stage including performances from OneCity Trust-supported Ama-zing Harmonies, Rock Choir Live, The Community Choir of An Edinburgh Christmas Carol, and Intercultural Youth Scotland.
There was also a special preview of two songs from the Lion King, which is playing at Edinburgh Playhouse from 5 December.
Christmas Market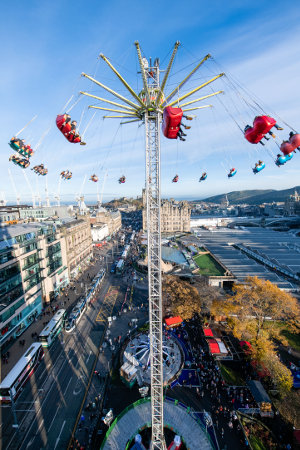 The controversial Christmas Market and Fairground in East Princes Street Gardens also opened yesterday a couple hours later than scheduled due to last-minute safety checks.
While there was a small protest, organisers Underbelly reported that the expanded market site and fairground saw a 30% increase in footfall this year on last year, with over 88,000 people visiting it on Saturday.
Santa's Grotto is back on Castle Street with this year a large and incongruous fairground ride Helter Skelter (there's one at the Christmas Market too).
Christmas around Edinburgh
Edinburgh's Christmas celebrations continue until 4 January 2020.
New this year is a Community Christmas series, where local music groups will perform festive tunes at 12 different locations in December.
Other events include silent disco dancing at the Christmas Market on weekdays in "Welcome to the Jingle!".
"Winter Windows" is again showcasing Edinburgh's schoolchildren painting talents, this year to 'A Festive Welcome' theme.
There is also a Night Walk, offering a multi-sensory tour of Edinburgh past and present.