Image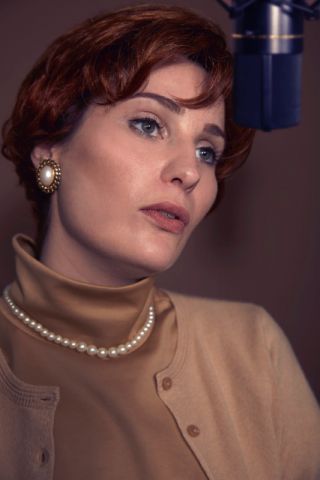 Production
Eliza Jackson (writer), Ian Good (director), Jonny Dickie (sound engineer)
Performers
Eliza Jackson (Marni Nixon)
In July 2016, the unsung heroine of Musical Movies, Marni Nixon passed away in New York City aged 86. Classically trained, she had been a talented singer from childhood and through the 1950s and 1960s was cast in numerous unseen, uncredited roles as the dubbed-over voice for many Hollywood actresses.
Like an overture, we first hear a medley of familiar songs from hit shows, before Marni Nixon steps on stage to join in the romantic lyrics from "I Could have Danced all Night." As the music fades, she adds with a sarcastic tone and curt smile, "Audrey could not sing to save herself!"
This sparkling, one-woman play is a most revealing portrait of "The Ghostess with the Mostest," as Marni was eventually named in the media, when the truth of her secret work was revealed. The stage is set with a large vintage microphone, music stand, a red velvet armchair, table with telephone and teapot, beside a rack of gramophone records.
Dressed in a black and white silk blouse, string of pearls and black cigarette-slim trousers, Eliza Jackson with her neat cropped hair bears an uncanny resemblance to Julie Andrews – in turn, Marni was also mistaken for Julie. We first hear about Marni's childhood when she and two older sisters were pushed onto the vaudeville stage and then films by their mother, which earned a good income, believing Marni could be a great opera singer.
Selecting the LPs one by one, we hear how Marni sang the high notes for Marilyn Monroe in "Gentleman prefer Blondes" illustrating how she copied the sweet, sultry voice for "Diamonds are a Girl's Best Friend". While working as a messenger girl for MGM, she is in the best place to find out about forthcoming musicals and auditions for "The King and I." Her perfect English accent in "Getting to Know You" gets her the job as the ghost voice for Deborah Kerr.
It is quite a shocking to learn that Marni was not credited in the movie or soundtrack album which sold hundreds of thousands of copies for which she was paid $420. Ms. Kerr was nominated for an Academy Award despite the fact that she had not sung one note. Marni was sworn to secrecy through her contract but unwittingly, Deborah thanked her ghost singer in an interview and her cover was blown. It was only then that she could start to fight for the right for royalties and credit as the true Voice Behind the Stars, and finally shake off her cloak of anonymity to star in her own concerts.
The narrative follows her musical journey "backstage" as it were, impersonating the voices and dramatic style for many star names including Natalie Wood as Maria in "West Side Story" and Audrey Hepburn as Eliza in "My Fair Lady". It seems so curious today that a director would cast an actress who cannot sing in a musical!
There are some marvellous behind the scenes anecdotes and Hollywood gossip along the way, such as how Natalie Wood was a monster, and that the "beautiful, graceful" Audrey struggled with her Cockney and upper class accents although "she kept getting voice lessons!"
Eliza Jackson has a powerful vocal range from classical soprano, musical theatre to jazz numbers. She is a simply stunning singer and actress, and the audience at the Assembly Rooms Drawing Room Theatre was mesmerised from start to finish by her magnetic, magical performance. Her glamorous, sharply astute and witty impersonation - herself ironically "ghosting" the exceptional musical talent of Marni Nixon on stage - just proves what a true star Ms Jackson is.
This is the world premiere of Eliza's show which deserves international success ... perhaps following in Marni's footsteps to Carnegie Hall, New York.
Show Times
2 – 26 August (not Monday 13).
Ticket Prices: £10 (£9).
Age Guidance: 8 +