Image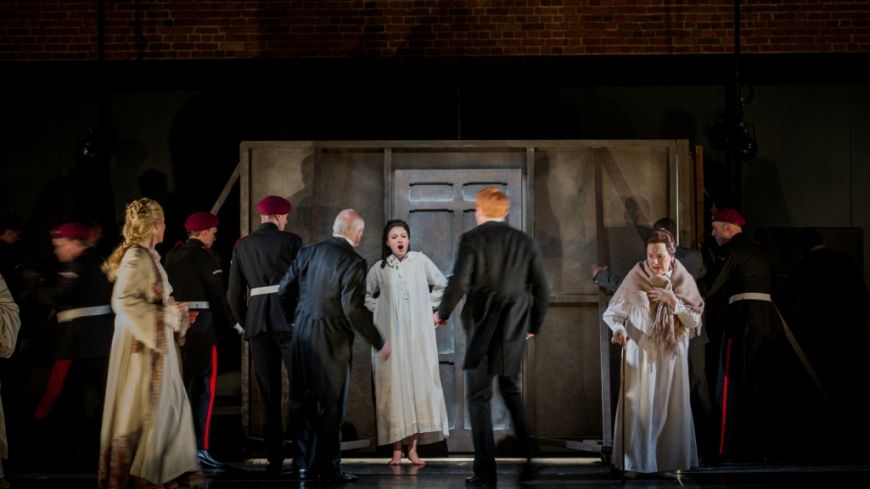 Production
Owen Wingrave, opera by Benjamin Britten
Performers
Ross Ramgobin (Owen Wingrave); Jonathan Summers (Spencer Coyle); Isaiah Bell (Lechmere); Susan Bullock (Miss Wingrave); Samantha Crawford (Mrs Coyle); Janis Kelly (Mrs Julian); Catherine Backhouse (Kate); Richard Berkeley-Steele (General Sir Philip Wingrave); James Way (Ballad Singer) Britten- Pears Orchestra, conductor Mark Wigglesworth
Owen Wingrave was the result of a commission by the BBC to write an opera for television. It took about five years for the years to reach the screen. The subsequent stage version has had few performances, though has been a revival of interest recently, some 40 plus years after its premiere.
Many music aficionados see the theme - the struggle of an individual to pursue his own path in defiance of demanding family and national traditions – as reflecting Britten's own problems as a conscientious objector when he returned from America at the height of the war in 1942.
The opera plot, written by Myfanwy Piper, is based on a novella by Henry James. Owen Wingrave is a young man who drops out of a cramming school for Sandhurst, eschewing a long-standing family tradition of military service.
Family and friends are appalled and determined to change his mind. His former tutor Spencer Coyle was the most moderate.
His aunt, Miss Wingrave, whose fiancé was killed in action alongside Owen's father, was virulent. His fiancee Kate ended the engagement, saying personal beliefs must give way to duty. His friend Lechmere tried to replace him. His grandfather, a retired general who headed the family, was apoplectic and disinherited him.
Musically, the opera lacks many of the things associated with the genre, mostly arias. The nearest approach is the Ballad Singer's tale of the family mansion Paramore and its ghosts at the beginning of the second Act.
That said, Owen Wingrave contains some of Britten's best music. Owen's lengthy soliloquy on a Hyde Park bench is masterly and its performance by Ross Ramgobin flawless. Each character has his or her say - most perhaps better described as recitative rather than singing – with accompanying music aptly evocative of their thoughts and feelings.
The climax comes when Kate cannot sleep in her bed at Paramore and gets up. The noise disturbs Owen, he follows her, they argue. She calls him a coward, challenges him to prove otherwise by sleeping in the Haunted Room. He agrees, she locks him in and he's found dead in the morning.
The staging was simple. Just a bare stage with a door centre back and three large screens on wheels which were moved around to form varied locations. Moving was done by the ever present "Ghosts" a silent chorus whose gestures portrayed reaction to what was being said or sung. They also acted as servants, setting out and removing tables and chairs etc.
A worthwhile evening which left the audience puzzling whether duty or personal belief should be paramount.
Opera: Friday, 15th August 2014 at 7.30 pm