Image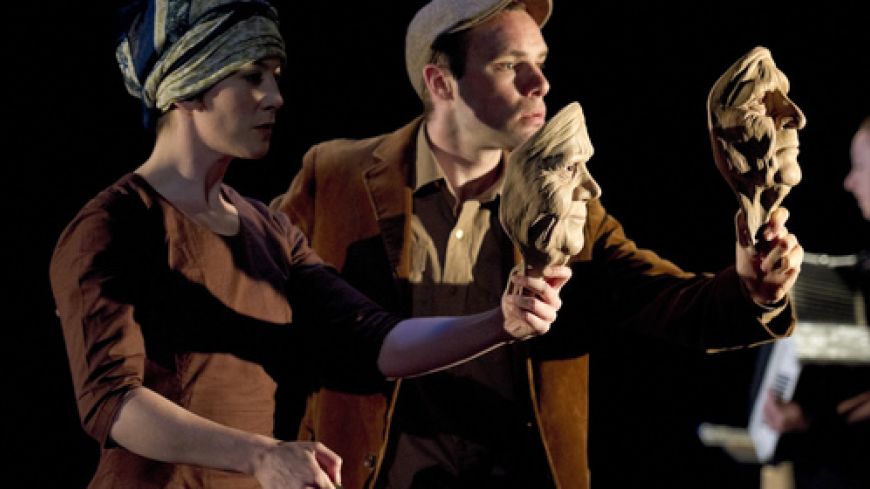 Company
Theatre Ad Infinitum
Production
George Mann (writer/director), Kim Heron/George Mann (music), Amy Nostbakken/Nir Paldi (dramaturgs), Peter Harrison (lighting designer), Francesco Gorni (set designer), Victoria Beaton (masks), Clare Amos (costume)
Performers
George Mann (William), Deborah Pugh (Rose), Kim Heron (musician/performer)
Translunar Paradise takes its inspiration and title from the W B Yeats poem, "The Tower", about a man wrestling with old age. It's brought to us by Theatre Ad Infinitum, a Lecoq-trained international ensemble whose, at times, masked players convey the devised story completely without words through movement and mime with the accompaniment of live music.
Counting the seconds, or perhaps willing time to pass quicker, an old man sits alone at a table. He is lost in grief following the death of his wife and has escaped to a land locked within his memories. But just as he is trapped so is she, dragged back by the touch of his mind or his caress of a favourite earthbound object.
These found objects, packed into her suitcase are redolent with the past, each firing off a significant event, which allows the characters to strip away the masks and the years. The actors straighten into their former selves, become sure-footed and agile as they move and dance through reminiscences of syncopated domestic bliss, a choppy tango of discord, a coy waltz of love rekindled or a ballistic, balletic nightmare of war. They share joy and pain through the years, but mainly a deep abiding love. There is aching humour as she spiritually tries to wean him away from his symbolic persistence in putting out two teacups - to have his memories but also to move on.Throughout, the accordionist/vocalist is the third player, providing their tempo, slipping between them to materialise some of the mimed objects and adding simple but effective sound effects.
The use of masks rather than freezing the characters with a botox-like lack of expression allows everything to be communicated in pinpoint movements that pierce the heart. The emotional content is such that it can move the audience to tears without a single word. Just stop and think about that for a second. It's no cheap trick, but testimony to the care that has been lavished on the production.
Only very occasionally is it difficult to see what a mimed action is defining - but I was sitting at the back. The intrusion of noise from other venues is unfortunate but not uncommon.
The company's mission was to produce something very special. What they have achieved is a unique work that is powerful, stunning, moving and yes, extremely special. If I see anything better this Fringe I will be extraordinarily surprised.
Show times: 3 - 29 (except 16 and 23) August 2011 3.40pm

Ticket prices: £9.50 (£8.00) - £10.00 (£9.00)