Image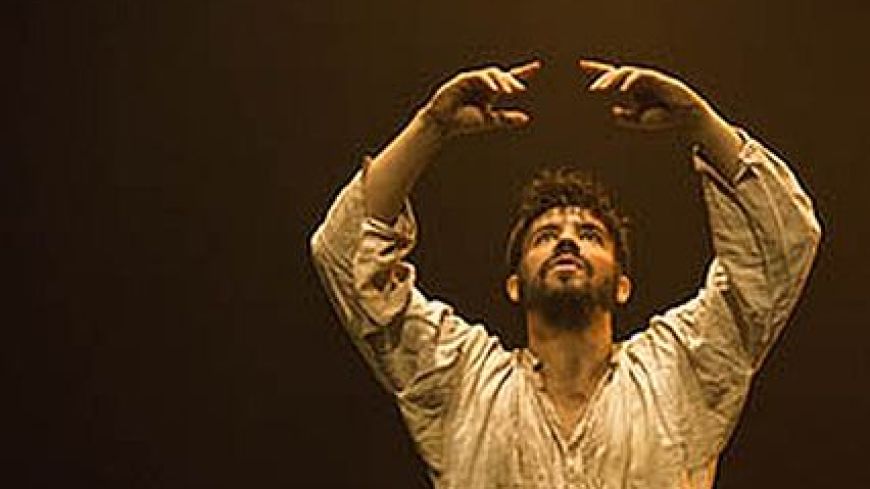 Company
Rhum and Clay Theatre Company
Production
Dario Fo (writer, translated by Ed Emery and with additional material by Nicholas Pitt and Julian Spooner), Nicholas Pitt (director), Emily Bates (designer), Jon Ouin (music and sound designer), Geoff Hense (lighting designer), Katherine Williams (lighting associate).
Performers
Julian Spooner.
"Gather round, people! hear ye! The jongleur is here! I am going to play a satire for you. I am going to joust with the lord of the land, for he is a great balloon, and I am going to burst him with the sharpness of my tongue"
We are here at his "birth", as he tells how he clawed out a living, working his fingers to the bone to make a mountain paradise for his family. It's short-lived, as the Lord of the Valley claims the land and leaves him with nothing, not even dignity, as that is the entitlement only of the rich. Driven to despair he is saved by a miracle as Jesus gives him the power to tell his tales.
This is an exhilarating reworking of Fo's monologue, reproducing how itinerant players in the middle ages caused the Bible and the Gospels to be read. Faced with government censorship of theatre and film in the 1950's, Fo became interested in looking "at the present with the instruments of history and culture in order to judge it better".
The result is a non-conformist morality play peppered with mischievous satire that captures all the irreverent vitality of the prevalent mediaeval theatre. It also invites scrutiny of what should be taken at face value.
Our jongleur, toiling up hills to deliver a slice of stories created by ordinary people is a Deliveroo courier. As he conjures up images on the empty stage he asks how easy it is to believe in nothing and whether what we believe in becomes real.
The piece draws on elements of Fo's own presentation, with its distancing, lighting and mime, but the physicality ascends to the heavens as Spooner morphs seamlessly between grieving mother, pitiless soldiers, angel, drunkard, and Jesus himself. Everybody loves a miracle and turning water into wine at the Wedding of Cana fuels a rave "sesh" and the Resurrection of Lazarus a rowdy festival like gig. The jongleur has the God given talent to manifest crowd scenes single handedly, each character and setting pulled from the air until we believe in them.
Exiting, energetic, full of subversive humour and a triumph of performance, it may be another link in what Fo described as "a chain of efforts which humanity has made to liberate itself from privileges and from prejudices and from idolatries". Moreover, though it is miraculously good theatre.
Show Times: 2nd to 26th (not 13th) August 2018 at 7.20pm.
Tickets: £12 (£11) to £13 (£12).
Suitability:14+