Image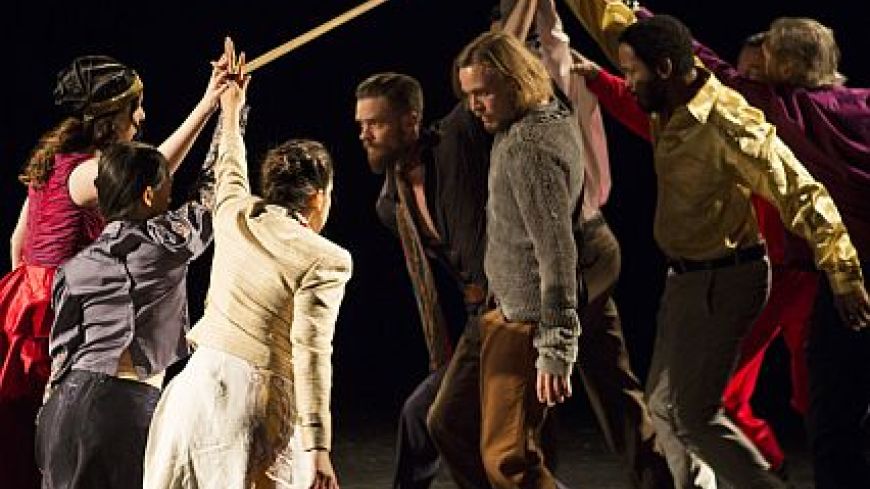 Company
Theatre Movement Bazaar (in association with Greenwich Theatre)
Production
Richard Alger (writer/designer), Tina Kronis (director/designer), Wes Myers (musical director), Ellen McCartney (costume designer), Yuan Yuan Liang (costume assistant), Aaron Francis (technical director), Jessica Hanna (producer), Ammy Alexandra Ontiveros (assistant producer).
Performers
Mark Doerr (King Arthur/Grail King), David Guerra (Perceval), Prisca Kim (Vivian/Blanche Fluer), Jesse Myers (Modred/Hermit Tailor), Lamont Oakley (Lancelot/Dream Knight), Elle Parker (Morgana/Mother), Paula Rebelo (Gwenevere/The Hag), Mark Skeens (Merlin/Mentor), Kasper Svendsen (Knute Blacksmithson).
In our sleep we dream, trying to escape, but every day we must wake to overcome anew - to take up our quest.
And so, our champions take up samite and sword as they discuss what they would do if they were king, to fight the good fight from the political to the seemingly trivial, and ask whether there is something you would take on?
With power comes responsibility and the need to act virtuously, not overcome by emotions. Fighting some emotions is Queen Gwenevere. She thought herself content, but when she is asked to represent subordinated women her eyes are opened. It may be time to recalibrate relationships, but Gwenevere finds herself pulled between husband, King Arthur and right-hand man, Lancelot. She likes Lance … a lot.
While Morgana battles glass ceilings and her desire to keep her good looks, Gwenevere matches her love to love and be loved.
The women attempt to stage an intervention before the knights charge off on the Quest which they feel they must undertake. The lure of the Grail pulls Percival and his squire Knute on years of adventuring; knights defeated, maidens defended, ailing kings, all the ups and downs – the whole holy kit and caboodle.
Unfortunately, in not questioning things Percival might not find the answers he seeks. It could be that the Holy Grail is only a thing of myth and legend, but then again, we need to do our own discovery, follow our own truths.
This is a glitzy modern take on Arthurian legend blending physical theatre, song and dance. It's playful, with props, ideas and lines slickly thrown around in skilful performances. The idea of forging afresh the depiction of women in legend gets somewhat lost in the way that they are subsequently represented. Sparklingly entertaining, but feeling dated in places, the award-winning company will need to take care not to lose their crown.
Show Times: 2nd to 26th August 2018 at 4.55pm.
Tickets: £10 (£8).
Suitability: 12+.