Image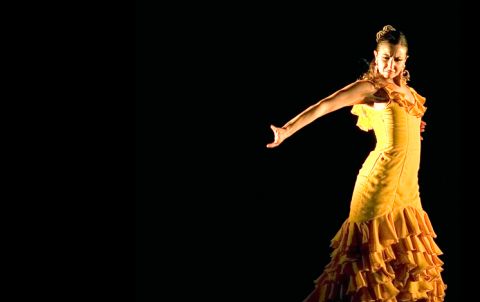 Company
Paco Pena Flamenco Dance Company
Production
Devised by Paco Pena: Jude Kelly - Director: Music - Paco Pena, Paco Arriaga, Rafael Montilla, Jose Angel Carmona: Choreography - Olga Pericet, Marco Flores, Angel Munoz: Lightin design - Aideen Malone: Costumes - Linda Rowell, Elvira Pena, Claire Banet
Performers
Paco Pena - guitar: Angel Munoz - dancer: Marco Flores - dancer: Charo Espino - dancer: Guadalupe Torres - dancer: Paco Arriaga - guitar: Rafael Montilla - guitar: Jose Angel Carmona - singer: Antonio Nogaredo - singer: Diego Alvarex - percussion: Victoria Dzivenu - dancer: Michael Nii Amon Neequaye - dancer: Gilbert Yaw Cofie - dancer: Roger Allotey - drummer, vocals: Felix Cheetham - musician, dancer: Kawame Crensil - drummer
The theme of this year's Edinburgh International Festival is of people crossing borders, assimilating into different cultures, and the essence of Paco Pena's new show 'Quimeras' is of migration, a topic familiar to him as he comes from Cordoba in the Andalusian region of Southern Spain, a popular place for migrants and the place where Flamenco music has its origins. 
One of the world's foremost Flamenco guitar players, he is interested in social issues - in particular the difficulties migrants face when they arrive in a new country. Poverty stricken, when they first arrive they are subjected to resentment and exclusion from their new environment and it can take some time before they are able to integrate into the new society.
'Quimeras' focuses in particular on migrants from Ghana, whose culture has already exposed them to the aspirations of the Western world - it is a musical journey involving a group of musicians and dancers who arrive in Spain and endeavour to assimilate into that society. 
With a simple stage - drums at the back and wooden chairs placed on either side - the entire show juxtaposes Flamenco songs and dance with African drummers and dancers. The dancing styles are of course completely different. Working within a minimal space, Flamenco dancing - which also originates from Andalusia - revolves around controlled passion with pounding feet and posturing gestures. African dancing is also passionate, but different with the focus being on a freer style.
The idea of using music and dance to relate the journey of Ghanaian migration into Spanish culture is adventurous and the production featured some talented musicians and dancers - notably the flamenco dancing of Angel Munoz, Marco Flores, Charo Espino and Guadalupe Torres.
The musicians - the flamenco guitarists and African drummers - also created a vibrant sound. But despite the quality of musicians and dancers, the production felt as though it was still in its experimental, rehearsal stage. The music and dancing was ultimately to portray the integration of migrants into a new society but all too often the production lacked cohesion.
Last night was the World Premier of 'Quimeras' and so it is hoped, as the show progresses, so too will the production.
Show times
Till 4 September, 8pm
Ticket Prices
£8-£28.50