Image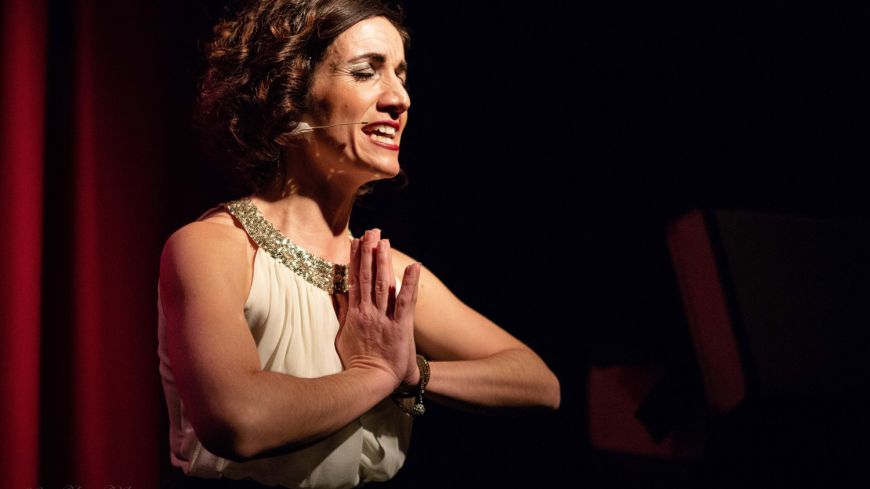 Company
House of Oz and Michaela Burger
Production
Michaela Burger (Creator); Jane Packham (Director);
Carol Young (Music Director, Choir Arrangements/Coordination);
Dave Higgins (Recorded Tracks); George Grifsas (Bouzouki/Guitar);
Sally Hardy/Elena Carapetis (Dramaturg); Artemis Sidiropoulou (Costumes);
Tom Bayford (Lighting); © Photo - Michaela Burger
Performers
Michaela Burger; Edinburgh Collective (Choir)
A lovingly crafted musical tribute, this show, created and performed by Michaela Burger, is a beautiful and heart-felt homage to her father (a migrant's son). Covering almost a hundred years of history she traces her Greek family origins through her great-grandfather to present day, all accompanied by charming snippets of family history and specially written songs.
Burger is a powerhouse. This petite woman has a voice that is so powerful it fills the room with ease. She is entertaining, funny and draws us in with her warmth. We connect with her moments of sadness. This is a celebration piece however – a celebration of a journey to a new life that can be recognised by many who have left a homeland to improve their lives in another land.
Burger makes it seem effortless as she takes us on her family history tour: family is everything. This feels like a big warm hug that will make you want to call your own family and hold on tight. With one last chance to catch this show you would not go wrong with grabbing yourself a ticket while you can.
Show Time: 26 August @ 18:00
House of Oz
Ticket Prices: £13-£14
https://tickets.edfringe.com/whats-on/migrant-s-son
© Photo - Michaela Burger
Accessible entry: Access is via the North Alley via a ramp into the Foyer, from which there is level access into The Great Indoors (main auditorium). The space has a very minimal rake. Wheelchair access type: Permanent Ramp. Stairs: 2-5 Age: 12+ (Guideline)