Image
Image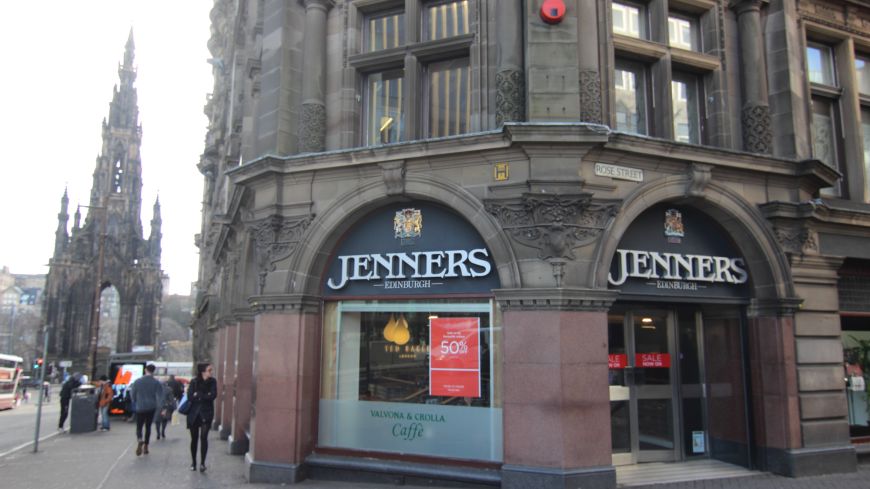 Street
47-52 Princes Street
Often dubbed the "Harrods of the North" this traditional department store on Princes Street was always about the retail "experience" rather than bagging the bargains.
Jenners Department Store (or more generally known simply as "Jenners") has been on Princes Street since 1838, when it was founded by linen draper Charles Jenner and Charles Kennington. It was known as "Kennington & Jenner".
The famous landmark building that you currently find on Princes Street was replacement for the original building destroyed by fire in 1892. It was designed by celebrated Edinburgh architect William Hamilton Beattie, who also designed the Balmoral and Carlton Hotel. It opened in 1895 with technical innovations like hydraulic lifts and electricity.
The Victorian department store was run for many years by the Douglas-Miller family, who were descendants of James Kennedy, who took charge of Jenners in 1881. The Douglas-Miller family sold the business to House of Fraser in 2005, which owns the commercial rights to the Jenners trading name. House of Fraser is now owned by Sports Direct retailer Mike Ashley and the building is owned by a property firm belonging to Danish tycoon Anders Holch Povlsen.
Jenners' open atrium over three floors, its balconies, and the architectural ornamentation and detail in its facade and interior harks back to a different era of bricks 'n' mortar shopping when you could find everything from office ware to habberdashery under the same roof. The food store on the top floor of the building - the original Victorian gallery - was always a popular place for gifts and the cafe for cream teas.
At Christmas, Jenners is known for having a tall Christmas tree in the centre of the atrium, with the surrounding balconies draped in lights.
The Jenners building is a grade A listed building, with entrances at Princes Street, Rose Street and South St David Street.
Jenners in the age of etail
The drum beat of online shopping and competition from nearby Harvey Nichols and John Lewis has caught up with the Edinburgh institution: House of Fraser announced in January 2021 that it will move out of its long-time location on Princes Street in May 2021 with the loss of 200 jobs.
Povlsen has been planning a major refurbishment ("sensitively done") of the building that would include restoration of the building's facade, and creation of a 10,000m2 (32,808ft2), 96-bedroom boutique hotel on the upper floors. The redevelopment would include luxury retailers, cafes, and rooftop restaurant and bar that will overlook St Andrew Square.
The development would include of hotel space and 7,000m2 space for retail, cafes and restaurants.
On Monday 22nd January 2023, a fire broke out at the Jenners building. A firefighter was in critical condition after battling the fire.