Image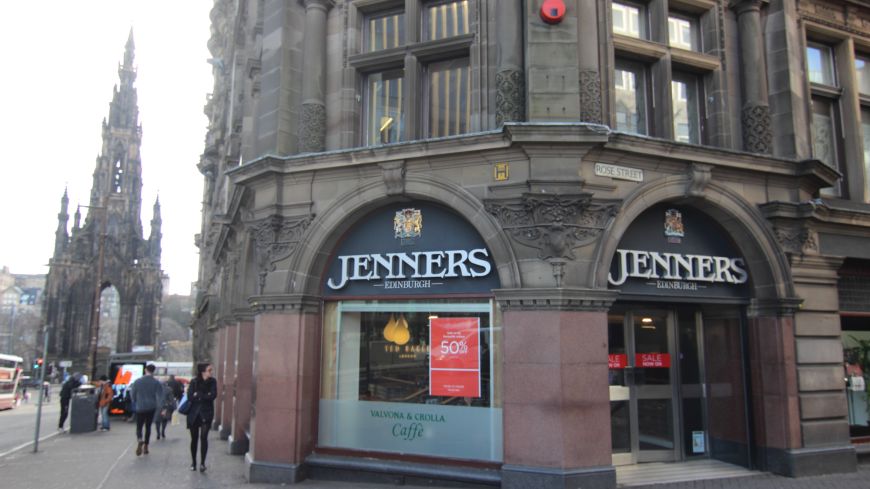 A firefighter is in a "critical condition", and four others injured, after battling the fire that broke out on Monday at the Jenners building on Princes Street.
The fire started Monday morning with clouds of thick smoke billowing out of the basement of the iconic former department store and filling the neighbouring St Andrew Square in thick grey smoke.
The Scottish Fire and Rescue Service said it was alerted to the fire at 11.29am. Businesses and roads near the Jenner's location at intersection of Princes Street, South St Davids Street, and Rose Street, were shut down.
Footage on Twitter, shot from across the road at Jenners' South St David Street entrance, shows two firefighters emerging from a dense cloud of swirling smoke, hauling a third firefighter by an arm each, away from the burning building.
In an update at 7pm on Monday night, Ross Haggart, Scottish Fire and Rescue Service's Interim Chief Officer, said:
"The fire at the Jenners building in Edinburgh is a very serious and complex incident and regrettably I can confirm that five of our colleagues were taken to hospital for treatment. Four have now been discharged, however one remains in a critical condition."
"The families of all those affected have been made aware."
At its height more than 100 firefighters were battling the blaze, with 22 fire appliances mobilised.
The five firefighters who were injured were taken to the Edinburgh Royal Infirmary. Four were discharged on Monday. In an update on Tuesday evening, Scottish Fire and Rescue said the fifth firefighter has remained in hospital with serious injuries and in a critical condition. He was named as Barry Martin, 38, from Fife.
Council Leader Cammy Day said: "It's so sad to see a fire at one of Edinburgh's most iconic buildings. I'd like to thank the fire service for their speedy and brave response."
This is the second time that a fire has impacted the landmark building on Princes Street. The original Jenners building was destroyed by fire in 1892.
The new building was designed in the Victorian Renaissance Revival style by celebrated Edinburgh architect William Hamilton Beattie, who also designed the Balmoral and Carlton Hotel. It opened in 1895 with major technical innovations for the time like hydraulic lifts and electricity.
The six storey Jenners building was vacated in May 2021 and was due to be converted by its owner into a 96-bedroom boutique hotel with luxury retail and restaurants.
Haggart said: "We are liaising with appropriate partners to ensure a full and thorough investigation is undertaken into this incident."