Image
Image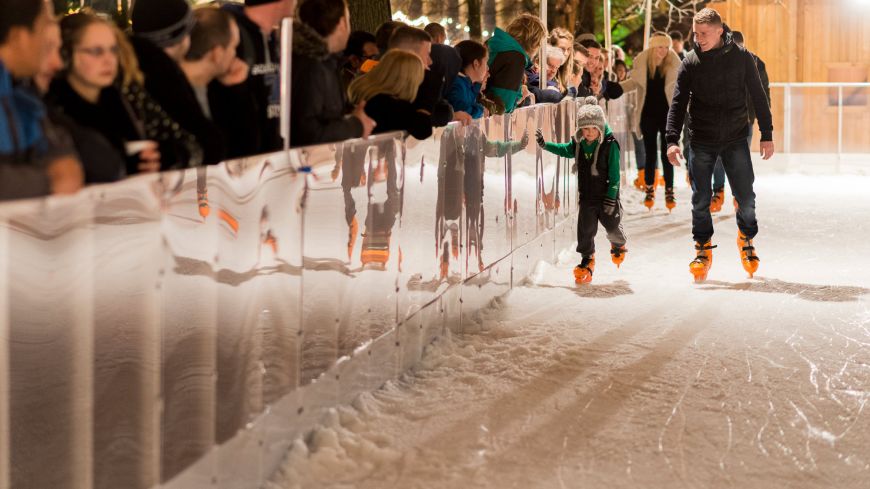 The St Andrew Square ice rink was a temporary, ice skating venue during Edinburgh's Christmas festival, introduced for the 2014-15 Edinburgh Winter Festivals and last erected in 2018-2019.
A newly located temporary skate rink was set up at the other end of George Street for the Edinburgh Winter Festivals in 2021 (see George Street Ice Rink).
The temporary skate venue at St Andrew Square was less a "rink" and more of an imperfect, donut-shaped ice track around the towering Melville Monument and pop-up bar, the Rekorderlig Cider Lodge at the centre of the Square. 
The oval ice rink was was built with 20km of piping and 200 tons of sand, not to mention the electricity to keep the ice permanently frozen.
The "elliptical" ice rink was last open to the public during Edinburgh's Christmas festival from 16 November 2018 to 5th January 2019. Opening times were between 10.15am and 10pm, and occasionally ran as late as 11pm on Friday and Saturdays (e.g. the Winter Solstice) in the famous New Town square.
Organisers of the Christmas festival, Underbelly, said 80,000 took to the ice in late 2018 and the first few days of 2019.
St Andrew Square garden is owned by the occupiers of the buildings around the Square including Standard Life, Gleneagles, RBS, and Harvey Nichols. It is run by city centre business association Essential Edinburgh. 
In March 2019, Essential Edinburgh did not renew its contract with Underbelly to host the rink, saying the ice rink infrastructure and footfall damaged the garden. In particular, soil compression was irreversibly damaging tree roots.
Ice Rink Ticket Information from 2018
Tickets from £9 to £12.50 (£5 to £8 for concessions) for around half-an-hour slots depending on the time of day.
Family tickets: £20 to £35.
Sessions at less busy times earlier in the day are cheaper. Book tickets at the official site (above) and collect at the box office for no added charge or pay £3 for standard delivery.
Skate hire is included in the price of your ticket. You need to book ahead and are advised to arrive 20 minutes in advance of your time slot to get your skates on. Children under 11 must be accompanied by a paying adult, no babes in arms. Bags are not permitted onto the rink.
There is a cloakroom available for storing stuff during your skating session. Wheelchair users are welcome on the rink.
For safety reasons, you are not allowed to take photographs whilst on the ice. Spectators can take photos from the viewing platforms around the rink.
The minimum skate size boot on the rink is a children's size 9, and the maximum is an adult size 13. Double-bladed skates are available for the tiniest feet, as well as skating aids for younger children at an additional cost when you arrive.