Image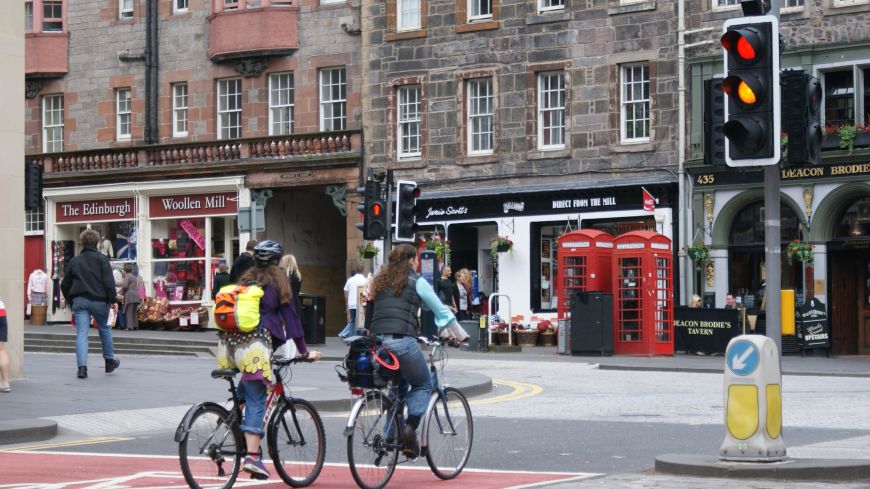 Edinburgh has rain, wind, hills, and traffic is often heavy. So it may come as a surprise to learn that it is considered one of the better cities for cycling in the UK.
Part of this is down to its extensive off-road cycle network built along old railway lines which were closed down in the Sixties to make way for the brave new age of the car. These "green corridors" now provide a haven for wildlife and non-motorised traffic alike.
By bike you can see Edinburgh in all its permutations in a day, from the run-down housing schemes to the Georgian New Town, the beach at Cramond in the North to the leafy suburbs in the South.
Unfortunately, there are few of these routes within the city centre itself and since they pass few shops or places of work, they're more suited to leisure riding.
Cycling uptown is definitely a less leisurely affair, although experienced cyclists shouldn't have a problem. Also, as climate change and environmental concerns grow, Edinburgh City Council has started taking cycling more seriously with more space devoted to bicycles on city streets.
In recent years, more bike lanes and bike boxes at traffic lights have been painted on roads and traffic calming measures introduced on busy biking commuting areas, although the network is far from joined up and motorised traffic still a major deterrant for would-be cyclists.
SPOKES, the Edinburgh cycle lobby group, provide current information, including a cyclists' map (essential if you are going to find all those cyclepaths) and regular newsletters on the state of the cycling in Edinburgh. Sign up now!
Edinburgh Cycling
Scotland Cycling
UK Wide Cycling
Cycling elsewhere