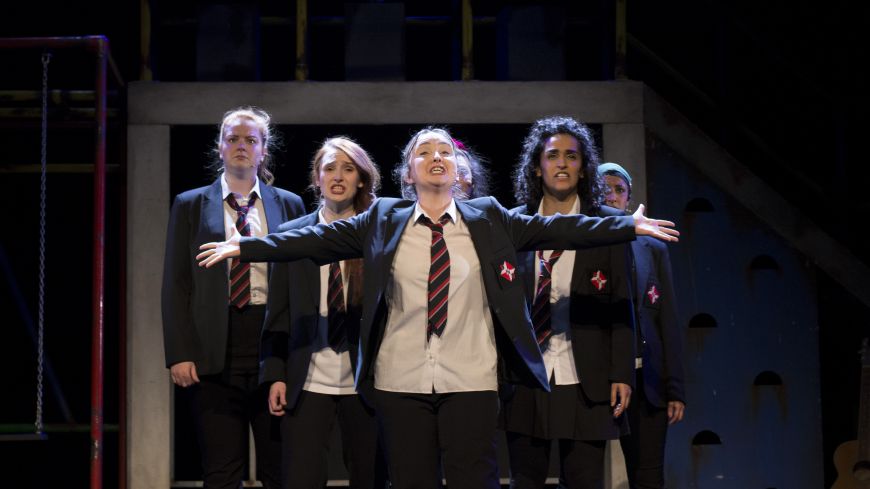 Company
Raw Material / Regular Music
Production
David Greig (Writer), Cora Bissett (Director/Composer), Hilary Brooks (Musical Arrangements), Gavin Whitworth (Musical Director), Mikey J Asante (Musical Arrangements), Jessica Brettle & Merle Hensel (Set/ Costume Design), Natasha Gilmore (Choreographer), Lizzie Powell (Lighting Design), Garry Boyle & Fergus O'Hare (Sound Design), Kielty Brothers & MC SoomT (Composers), Patricia Panther (Composer / Ensemble), Jade Adamason (Associate Choreographer)
Performers
Roza (Sophia Lewis), Ewelina (Stephanie McGregor), Amal (Aryana Ramkhalawon), Agnesa (Chiara Sparkes), Jennifer (Shannon Swan), Emma (Kara Swinney), Mr Girvan (Callum Cuthbertson), Noreen (Terry Neason), Laura Jane Wilkie (Musician – Fiddle)
Since it first premiered at Glasgow's Citizens Theatre in 2012, 'The Glasgow Girls' has been winning awards (2013 Best New Musical at the Off-West End Awards, 2016 Amnesty International Freedom of Expression Award) and touring every year since, bringing its message of hope amidst adversity to venues across the UK, whose audiences can relate to the story of a small group of Drumchapel High school girls taking a stand against unjust attitudes towards immigration.
This stories narrative may be over a decade old now, with the action taking place in 2005, yet the issue it tackles at its core is more relevant than ever in our current climate of political clusterfuck, injecting a new lease of life into this firecracker of a show and presenting the perfect time to showcase its mantra – 'heartily welcoming all cultures to their country' – across Scotland's mainstream theatres, with a stop off in Dublin to boot.
Remounted for this big scale tour by production house Raw Material, their cornerstone desire to create and tour accessible, quality, cross artform theatre appealing to wide-ranging audiences across borders is ticked with gusto with 'The Glasgow Girls'.
Cora Bissett and David Greig's musical mixes agitprop simplicity with a smidge of caricature and comedy, allowing it to retain its rawness amidst the bigger theatrical setting, increasing the urgency of its message without losing its intimacy. It's rough and ready with polished peaks, never faltering in showcasing Glasgow and the girls' campaign with real heart, despite what may be arguably unavoidable clichés.
From a late-night raid and removal which highlights the plight of seeking asylum to the schoolgirls, through to the challenges of protesting, making it all the way to Holyrood with your message and winning Scottish Campaign of the Year, the show illustrates the events with pulsating dialogue, peppered with songs offering an eclectic mix of global styles by Kielty Brothers, MC Soom T and Patricia Panther, who also shines onstage.
The central ensemble gives heart and soul aplenty in their deliveries as Roza (Sophia Lewis), Ewelina (Stephanie McGregor), Amal (Aryana Ramkhalawon), Agnesa (Chiara Sparkes), Jennifer (Shannon Swan) and Emma (Kara Swinney), at ease with Natasha Gilmore's edgy and energetic choreography, which adds volume to the action against the simplistic lighting (Lizzie Powell) and set (Jessica Brettle), with lovely fiddle accompaniment from Laura Jane Wilkie.
Adding to the welcoming atmosphere are two wonderfully underrated deliveries from Callum Cuthbertson as Mr Girvan and Terry Neason as Noreen, who delight in their cameos ranging from an hilarious head teacher to an Elvis-esque First Minister Jack McConnel as well as charm as their central characters.
This show will appeal to all ages with its exploration of friendship, solidarity, hope and unity that crosses any borders, evoking a warrior cry of passion yet always underscoring – and point-blank stating – that these injustices that happened on our doorstep are happening still.
Whether it can really succeed in changing opinions or habits, especially in our current climate of aggression, Glasgow Girls have to be praised, and deserved to be seen, for their sheer determined spirits, which may just make all the difference by opening more people's eyes to notice what's going on around them, and maybe getting involved.
Runs at King's Theatre until Sat 26 Jan. On tour to Perth Theatre (30 Jan - 3 Feb), Inverness: Eden Court (7-9 Feb) and Dublin: Abbey Theatre (13-16 Feb).