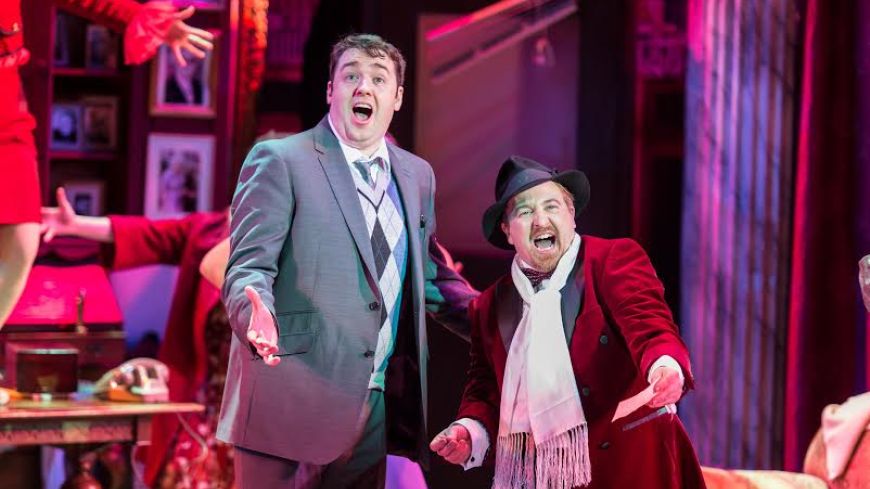 Company
Adam Spiegel in association with Tulchin Bartner & Just for Laughs Theatricals
Production
Matthew White (Director), Lee Proud (Choreographer), Andrew Hilton (Musical Supervisor & Director)
Performers
Corey English (Max), Jason Manford (Leo), David Bedella (Roger), Phill Jupitus (Franz), Tiffany Graves (Ulla), Louie Spence (Carmen)
Last week Jason Manford starred in the first drama in the series 'Ordinary Lives' on BBC1. Seven days on, he is one of the principal stars in a no-ordinary musical.
This is a stage version of the Mel Brooks film and stage show and, of course, the word 'spoof' is synonymous with his work. It sends up the great Hollywood musicals with a story about putting on a Broadway disaster instead of the Hit that makes everyone a star and sends audience and backers home happy.
The show opens with the down-on-his-luck producer Max, played by the absolutely wonderful Corey English who was outstanding throughout, trying to find a way back financially and professionally.
Enter the painfully shy accountant, Leo (Jason Manford) who demonstrates his versatility as a singer, comic actor and dancer and Leo comes up with the idea that from a finance point of view a flop may be a way of making money rather than a modest success.
The duo come up with a plan to produce the worst musical with the worst director and cast that they can find.
Presumably they thought that 'Old Possums Book of Practical Cats' was stretching the imagination too far and came up with the most offensive play 'Springtime for Hitler' written by a very strange Bavarian played eccentrically by Phill Jupitus.
Throw in a director with his gay entourage and an aspiring Swedish actress who speaks little English, Ulla (Tiffany Graves) and the crooked producers look forward to a joint opening/closing night.
In between there is lot of humour some of it lewd and crude and the ensemble cast take on many roles including the elderly female backers who cannot get enough of Max's charms.
The use of names to draw an audience in was justified by Jason Manford's performance although I felt he was eclipsed by a tour de force from Corey English.
Louie Spence (the judge from Dancing on Ice) was fine but hardly merited the billing above David Bedella who played the director and Hitler in the show.
As a musical it has got two memorable songs and the first half maybe goes on a bit, but the story is easy to follow if more ludicrous than most. But, hey, it's meant to be entertainment and the audience left the theatre with smiles on faces and a buzz that you associate with a good night at the theatre.
Runs to Saturday 28th March