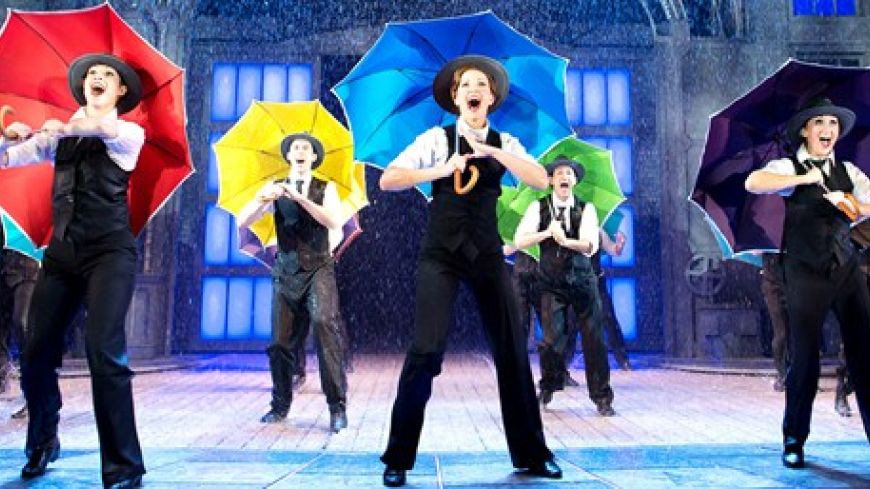 Company
Chichester Festival Theatre
Production
Betty Comden, Adolph Green (screenplay), Nacio Herb Brown, Arthur Freed (songs), Jonathan Church (director), Simon Higlett (designer), Robert Scott (music supervisor), Andrew Wright (choregrapher), Larry Wilcox and Larry Blank (orchestrations).
Performers
James Leece/ Matthew Malthouse (Don), Amy Ellen Richardson (Kathy), Stephane Anelli (Cosmo), Maxwell Caulfield (RF Simpson), Faye Tozer (Lina), Jacqueline Clarke (Dora Bailey/Miss Dinsmore), Paul Grunert (Roscoe) plus ensemble of singers/dancers. The Orchestra with John Donavan, musical director/piano.
Premiered in 1952, "Singin' in the Rain" starring Gene Kelly, Debbie Reynolds and Donald O'Connor is still rated as one of the greatest musical movies of all time.
Sixty-two years later, the farcical plot, familiar show tunes and brilliant choreography have been seamlessly adapted from screen to stage for this lavish new, musical theatre production.
Hollywood, 1927: the glamorous silent-film duo of Don Lockwood and Lina Lamont is the toast of Tinseltown. Both fan mag gossip columns and their movie characters view Don and Lina as "a couple" but in real life he has no interest in the talentless blonde starlet.
The period Hollywood setting is neatly portrayed through costumes and Monumental Pictures film set; entertaining flashback scenes show Don's rise to fame from Vaudeville song and dance man partnered by his best buddy Cosmo. Now their double act continues with Don as leading actor and Cosmo as silent-film pianist/musical director.
On a drop-down screen, excerpts from the Lockwood and Lamont movies show the cliché-ridden, ham-acted Historical romantic tales, wittily dramatised with outrageously mimed gestures and facial expressions.
Don's chance encounter with an aspiring stage actress Kathy Selden makes him realise he is not a real actor. "Movies are entertaining enough but I mean they don't talk, don't act, just a lot of dumb show", she curtly tells him, "When you've seen one, you've seen them all."
But Hollywood is facing major change with a smash hit for the first Talkie, The Jazz Singer. In order to compete, Monumental Pictures decide to remake "The Dueling Cavalier" as a musical.
Don is an all round entertainer, but unfortunately Lina has a high pitched squeak of a voice like a fingernail on a blackboard. In a brilliantly funny film shoot, microphones hidden in a rose bush and inside Lina's dress, cause complete chaos.
Similar to Eliza Doolittle having an elocution lesson with Professor Higgins, Lina has to be coached to try to speak clearly:
"And ay cayn't stand'im," she screeches in her strong Brooklyn accent.
"No! it's 'And I caaaan't stand him!'"
Lina clearly can't act, sing or dance but Don and Cosmo realise that Kathy, an accomplished singer and actress, can help save the movie and the Studio from disaster.
Comparisons between such a well-loved film and this stage musical are sure to be made: for instance, instead of a Cyd Charisse-style dream sequence, here a confusing, fast paced scene has little sense of make-believe fantasy.
However, that comment aside, the top cast actors and fabulous dance ensemble create an equally colourful, high energy show. As the vain, airheaded Lina, Fay Tozer adopts an incredible whining voice as well as comedic timing. Cosmo, played by Stephane Anelli, is simply charming - for the song, Make 'em Laugh acting like a madcap Buster Keaton clown blending gymnastic and balletic moves.
Matthew Malthouse recreates Gene Kelly's Don Lockwood with graceful elegance and panache, while Amy Ellen Richardson captures Kathy's sweet, naïve girlishness complemented by a lovely singing voice.
All the romantic songs are here: "You Were Meant for Me," "You Are My Lucky Star," "The Broadway Melody," and of course the title song.
Remember Gene Kelly stomping through the puddles? That memorable moment when he sings "The sun's in my heart, And I'm ready for love" is regarded as the most joyous musical sequence ever filmed.
Well, you won't be disappointed here as the rainstorm is a showering cascade of 12,000 litres of water for Don's classic "Singin' in the Rain" number and the Finale.
The entire company presents a breathtaking show-stopping routine as they tap dance their way around the flooded stage. It's a magical sight – but perhaps bring your brolly if you're sitting in the front row of the stalls!
According to the American critic, Roger Ebert, "there is no movie musical more fun and few that remain as fresh over the years".
Yes, the show is still fresh and dandy today and, as the lyrics express, "What a glorious feeling… I've a smile on my face…."
Show times
25 February - 15 March, 2014.
Ticket prices
£17.50 - £46.50 (Concessions and group offers available)