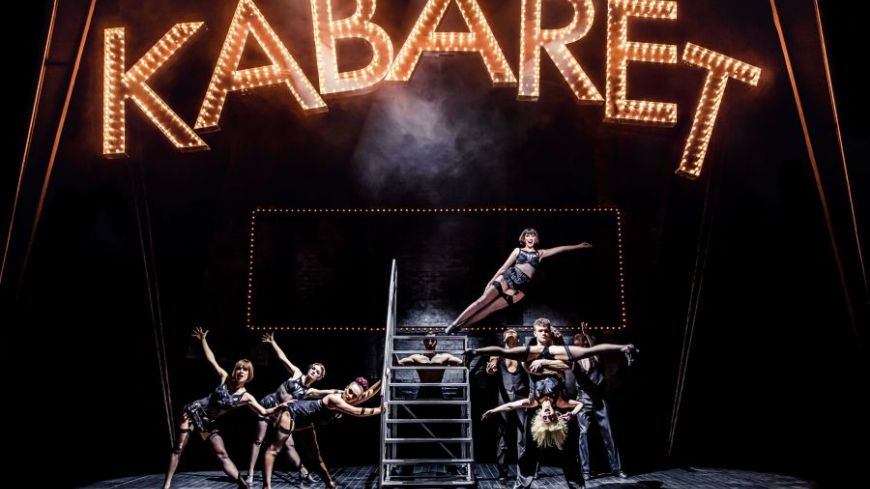 Company
Bill Kenright Production
Production
John Kander (music), Fred Ebb (lyrics), Joe Masterhoff (book - based on the play, by John Van Druten and stories by Christopher Isherwood); Rufus Norris (director), Katrina Lindsay (designer), Javier de Frutos (choreographer), Tim Oliver (lighting), Phil Cornwell (musical director)
Performers
John Partridge (Emcee), Kara Lily Hayworth (Sally Bowles), Anita Harris (Fraulein Schneider), Charles Hagerty (Cliff), James Paterson (Herr Schultz), Basienka Blake (Frauline Kost), Nick Tizzard (Ernst Ludwig): Kit Kat Club ensemble of singers and dancers. The 8 piece Band with conductor, Phil Cornwell.
"I am a camera with its shutter open, quite passive, recording, not thinking." Christopher Isherwood, "A Berlin Diary, 1930"
On stage, in giant letters is WILKOMMEN with the O representing the lens of the camera, its shutter open. A welcome indeed to the Kit Kat Club by the outrageously camp Emcee with his white powdered face, tight black lederhosen and boots.  The opening number, all lace and leather bondage wear, is electrifying in its breathtaking energy and acrobatic skill.  
Arriving in Berlin is the quiet American, Cliff Bradshaw, greeted by the kindness of strangers at the station and at Fraulein Schneider's boarding house.  An invitation to the Kit Kat Club soon opens his eyes, as a closeted gay man, to the sexually liberating, hedonistic nightlife of "beautiful girls, beautiful boys" galore.  
Here, backstage at midnight, New Year's Eve 1930, he meets Sally Bowles, the wildly vivacious, flirtatious singer, pouring him a stiff gin and a promise of  "divine decadence, darling."  Cliff is completely seduced by her green finger nails, Bohemian style and impulsive manner, that he cannot say no to her, even when he needs to write his novel and teach English. "You are so distracting" - to which she replies, "No, inspiring!" 
Kara Lily Hayworth captures the complex personality of Sally, her zany, carefree nature but with a thin skinned vulnerability, her feelings expressed in the song "Maybe this Time."  She looks the iconic part, dark bob, dazzling smile and husky voice, akin to Oscar-winning Liza Minelli in the 1973 movie.  
A conventional romance blossoms between Fraulein Schneider and her tenant, Herr Schultz who brings her pears and pineapples from his fruit shop, a gentle relationship played by Anita Harris and James Paterson with graceful charm. Toasting their engagement with a glass of Schnapps and a gift of a crystal bowl, their happy future together is sadly not so rosy as Jewish shops are being attacked, littering broken glass in the streets.  Cliff is aghast that Sally is politically naïve, oblivious to the changing anti-semitic society.
Centre stage as the Emcee of the Cabaret, John Partridge gives an enigmatic performance as the showman and ringmaster of this sleazy fantasy circus.  He is reptilian in his louche, languid, snake-like moves, sliding up and slithering down a staircase, leading the ensemble in the club scene choreography - an erotic display of crotch-holding, pelvic thrusting, raunchy, racy routines with slick precision. 
As the dark days of the Nazi regime take hold, the Emcee, donning a moustache, becomes a puppeteer manipulating the chorus on strings for the chilling number "Tomorrow Belongs to Me".  And finally, the blistering, bold denouement will hit you in the stomach with such a powerful, totally shocking, emotional punch.
This is a spectacular production – more of a dramatic play with rousing ballads and romantic songs: stunning choreography, swift scene changes, snazzy, sassy costumes, a live band on stage and superb vocal performances all round.  Divine decadence, darling.   
What good is sitting alone in your room?  Come hear the music play.
Life is a cabaret, old chum, Come to the cabaret.
Show times:
Tuesday 5 – Saturday 9 November 2019
Tickets: £26.50 - £46.50
www.capitaltheatres.com   0131 529 6000
UK Tour 
12 – 16 November 2019
His Majesty's Theatre Aberdeen
19 – 23 November 2019
Malvern Festival Theatre
21 – 25 January 2020
New Theatre Peterborough
28 January – 1 February 2020
Sunderland Empire
4 – 8 February 2020
New Theatre Oxford
18 – 22 February 2020
New Theatre Wimbledon
25 – 29 February 2020
Palace Theatre Manchester
3 – 7 March 2020
Grand Theatre Leeds
10 – 14 March 2020
Marlowe Theatre Canterbury
17 – 21 March 2020
Sheffield Lyceum
24 – 28 March 2020
Wales Millennium Centre
31 March – 4 April 2020
Regent Theatre Stoke