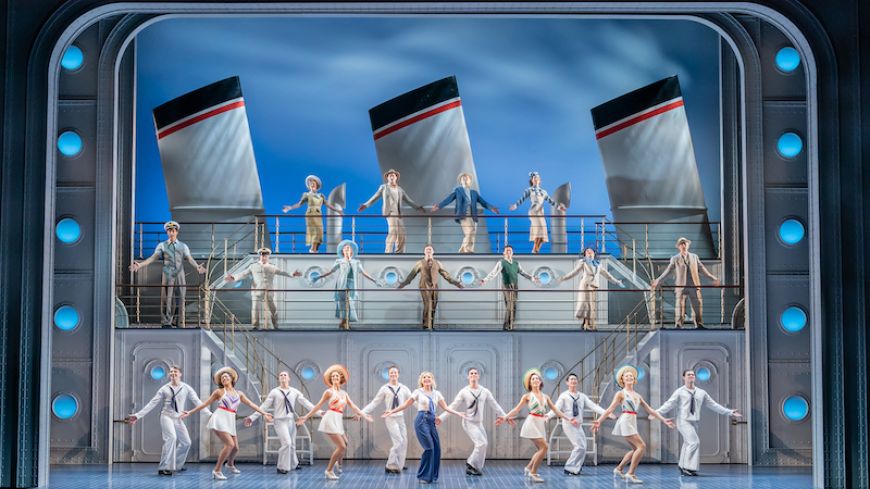 Company
Trafalgar theatre productions, Eilene Davidson Productions, Mallory Factor for Hill Street Productions
Production
Cole Porter (music and lyrics), P.G. Wodehouse & Guy Bolton (original Book), Timothy Crouse and John Weidman (new Book), Kathleen Marshall, (director and choreographer), Derek McLane (Set design), Jon Morrell (Costumes), Hugh Vanstone (Lighting), Jonathan Deans (Sound), Mark Aspinall (Music director).
Performers
Clive Hayward (Elisha Whitney), Samuel Edwards (Billy), Kerry Ellis (Reno), Denis Lawson (Moonface Martin), Eu Jin Hwang (Captain), Nicole-Lily Baisden (Hope), Bonnie Langford (Mrs Harcourt), Haydn Oakley (Lord Oakleigh), Carly Mercedes Dyer (Erma). Plus the ensemble as passengers, reporters, sailors, dancers, singers. The Orchestra - conductor, Mark Aspinall
The premiere of the smash hit musical 'Anything Goes" opened in New York on November 21, 1934 and ran for 420 performances, the perfect frothy entertainment for the post prohibition era. This revamped production (London 2021), won the WhatsOnStage Award for Best Musical Revival and is now on a UK tour.  
"There's no cure like travel, to help you unravel the worries of living today. When the poor brain is cracking, there's nothing like packing a suitcase and sailing away". Cole Porter.
The slender, if not a skeleton of a plot, combines a series of high jinks and hoodwinking ventures on board an ocean liner, SS American, bound from New York to England. The night before departure in a smoky Manhattan bar, Elisha J. Witney sips cocktails while ordering Billy Crocker, his hapless broker assistant to sort out his finances (aka insider share dealing) and bring his forgotten passport to the ship.  Here too Billy meets Reno, a beautiful nightclub singer, who expresses her infatuation for him in a delicious rendition of "I Get a Kick out of You."  (… 'I get a kick though it's clear to me, You obviously do not adore me.'  Yes, Billy is in love with another gal.
This is a shipshape story of sweet romance – entangled, triangular relationships, unreciprocated love affairs and an arranged marriage. Boarding the ship are the Debutante, Hope Harcourt with her wealthy fiancé Lord Evelyn Oakleigh and her mother Evangeline in tow, (the match will solve the Harcourt family's money problems). Billy is on deck to give Eli his passport but then sees Hope, the woman he loves, he cannot jump ship and needs to stowaway to win her over and stop the wedding.  Meanwhile, lovesick Reno, who gets such a kick out of Billy, has joined the voyage with her dance troupe of Angels, to try and win his heart. 
Planning the great escape from the law is Moonface Martin (named Public Enemy #13 by the FBI), disguised as a priest, joined by Erma, the promiscuous girlfriend of Snake Eyes Johnson (Public Enemy #1).  So this motley passenger list of aristocrats and gangsters, stowaways and sailors, find themselves all at sea in a madcap, Marx Brothers comic caper of mistaken identity and villainous tricks all set around a vivacious Vaudevillian showtime.  Bon Voyage.!
Kerry Ellis as Reno, glamorously dressed in a selection of gorgeous gowns, gives a dazzling, polished performance throughout, with pitch perfect vocals from poetic love songs to belting out Porter's brassy ballads.  She is partnered well by Samuel Edwards as Billy, such as in their duet, "You're the Top"; Also a delightful romantic encounter between Billy and Hope as they share their feelings in "Easy to Love."
Reno gives a star turn leading the ensemble in neatly choregraphed routines, all jazz hands and lively tap numbers with electrifying energy.  The immaculately co-ordinated staging of the cast across three decks for the end of Act 1 number, "Anything Goes" is worth the ticket price alone.  
Denis Lawson throws himself into the character of Moonface Martin with cheeky gleefulness, and Clive Hayward taking over the role as the very short-sighted Elisha Whitney,  spies the pretty girls through his binoculars with lascivious charm. (Simon Callow plays the role on Saturday and Sunday).
Mark Aspinall, the conductor, (jauntily dressed in a Captain's cap), leads the fourteen piece orchestra creating the vintage Big Band sound with pizzazz; the Reed section on Sax in particular, show off the syncopating Swing style of 1930s American jazz. As well as the free flowing accompaniment to the songs and dance steps with a driving rhythm, the musicians create ad hoc sound effects, ship horns and hooters.
In 1934, Cole Porter's musical presented the best escapism for the Depression-era and today is the perfect antidote for post-Pandemic times.  For a touring show, this is a world class, ambitious production, akin to the West End and Broadway. Performed with dramatic pace and musicial precision, no wonder there was a standing ovation last night at the packed out Festival Theatre.
As refreshing as a cool ocean breeze, the humorous wit as dry and intoxicating as a Gin Martini, "Anything Goes" is a snazzy, jazzy affair which sparkles like a fizzing flute of ice cold champagne.  
Show times:
11 – 15 May, 2022
Times: Evenings, Thurs – Sat. 7.30; Saturday, 2.30pm; Sunday 3pm.
Ticket Prices: from £26.50 (Discounts and concessions available).