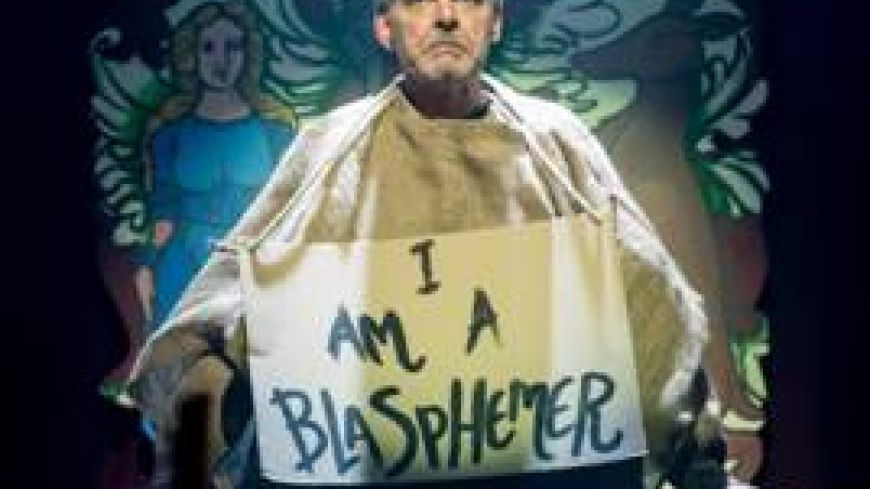 Company
Told by an Idiot, National Theatre of Scotland and The Royal Lyceum Theatre, Edinburgh in association with Liverpool Everyman and Playhouse
Production
Told by an Idiot (writers), Iain Johnstone (composer), Simon Armitage (lyrics), Paul Hunter (director), Laura Hopkins (designer), Adrienne Quartly (sound design), Paul Anderson (lighting design)



Performers
John Cobb, Amanda Hadingue, Myra McFadyen, John Pfumojena, Hannah McPake, Dominic Marsh, Charlie Folorunsho and Iain Johnstone
Today, people can be famous for being famous; legends in their lunchtime. Conversely, the last person in Britain whose dubious claim to fame is having been executed for blasphemy is barely remembered.
Edinburgh medical student Thomas Aikenhead was hanged at the Gallow Lee (sounding spookily similar to Galilee) in January 1697 after his pals cliped on him for opening a careless mouth during dangerous times in Scotland when a casual remark led to costing him his young life. This sorry and salutary tale has been unearthed and retold in rumbustious style in this devised musical ensemble production from Told by an Idiot, National Theatre of Scotland and The Royal Lyceum Theatre.
Told by an Idiot brings a chaotic style of theatre familiar to Scottish theatre goers through the likes of 7.84, Wildcat and Communicado. The eight strong cast slips in and out of time zones and the various parts with impunity, most significantly that of Thomas, reminding that the unfortunate victim could be any one of us at anytime and anywhere. They point up the vicious cycle of the oppressed become the oppressor with the Lord Advocate James Stewart who sentenced Aikenhead recalling his mother Margaret being drowned at a stake for refusing to sing the national anthem yet incapable of mercy when faced with a similar case.
There's plenty of cross dressing and analogy of football analysis by sheepskin wearing pundits with dodgy Barnets and names like Arthur, Bill and Archie all done with comedic skill by the cast but outstandingly by Myra McFadyen whose Lecoq training shines in every scene. The message from St Matthew's gospel of what is done to the least is done to Christ speaks loudly as she plays the baby Jesus wearing an I am Thomas bib.
Iain Johnstone sits at the 'old joanna' in the corner playing, among other things, the beautiful atheist anthem, with lyrics from poet Simon Armitage, 'Roll up' that is reminiscent of the late Michael Marra while Harry Lauder is invoked in the song 'Keep Right On' and lyrics that contain 'end of the road' even if the sentiments have a different slant from Lauder's stereotypical image of the couthie kilted Scot.
We may be in the 21st century but death for blasphemy is still practiced in some parts of the world. I am Thomas isn't going to stop that but it positively echoes the collective aspirations against freedom of speech and thought from 'I am Spartacus' to more recently 'Je suis Charlie'. This bold show may be a bit ramshackle but it puts humanity first, reminding us that we are all Jock Tamson's bairns and inviting us with song and humour to 'come see the light' in a 'country of infinite dreams'.
I am Thomas was first performed at Liverpool's Everyman and Playhouse and having its Scottish Première at the Lyceum.
23 March – 9 April 2016 then tour continues