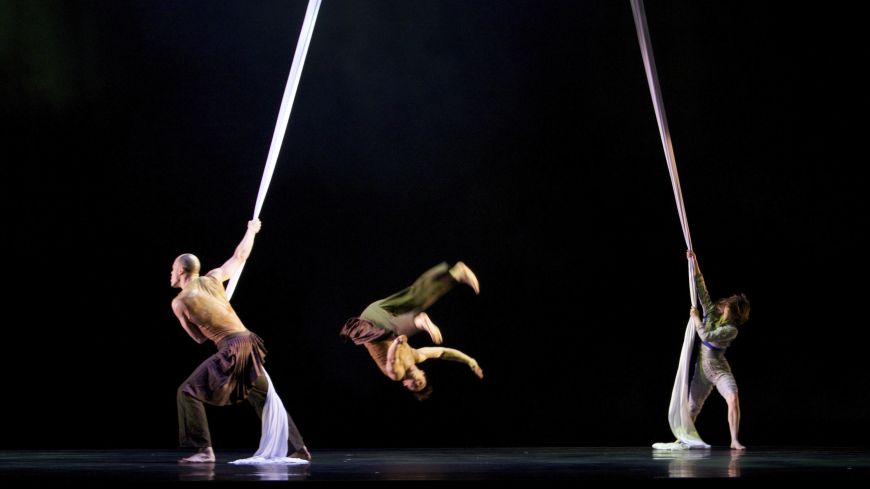 Production
Morag Deyes (artistic director), John Stalker (producer), Pete Irvine (producer) Jeanine Davies (lighting),
Performers
Erroll White, Davina Girvan, Lyndsey Thomas, Allan Irvine, Tony Mills, Amy Park, Lisa Sinclair, Daniel Aing, Jennifer Paterson, ClaShri Jayachandra Kumar
Edinburgh's Hogmanay Festival programme has previously offered an international cultural extravaganza of street theatre and music in the Night Afore Fiesta outdoor shows along George Street. A change of scene at New Year 2008/09 enticed 12,000 spectators to the Grassmarket to watch and take part in The Dancin featuring traditional and modern dance performances.
Following this success, Morag Deyes of Dance Base has created a foot-tapping, fun and funky celebration of dance and music "with a Scottish spin" in a nationwide touring show, "Off Kilter". Guest choreographers include the American master of dance, Mark Morris and Ashley Page from Scottish Ballet, with an eclectic mix of music from Beethoven to Martyn Bennett. Theme, pace and tempo switch and shift through the ten contrasting works from classic Indian dance to Celtic jig, from ballet to breakdance.
This New Year dance lovers can enjoy the warmth of the Edinburgh Festival Theatre, (and theatres around Scotland), rather than shiver in the snow outside. The opening number to get into the Hogmanay spirit, is a neat Highland dance from world champion Davina Givins to the skirl of a solo bagpipe.
Page's evocative "Paisley Patter" is inspired by eight Ivor Cutler's silly nonsense songs such as Cockledoodledon't with the comical line " I saw my granny at the pictures biting all the buttons off the seats..." Three dancers capture nostalgic period and place, skipping, jumping, playing, against a backdrop of 1950s Glasgow street scenes by photojournalist Oscar Marzaroli.
The ethereal "Halflight" with music by Tom Bancroft, features a breathtaking acrobatic ballet performance by Jennifer Paterson as she twists and twirls upside down on a long silk rope, reminiscent of mountain climbing in the Highlands. Proving that footballers display pure choreography on the field, "Gemmill's Goal" recreates the legendary goal by Scotland's Archie Gemmill in the 1978 World Cup match against Holland. Slick, stylish and graceful moves by four male dancers, (in vintage football kit), are performed in tight unison to a soundrack of football commentary and the 1978 Tartan Army song, "We're going to Argentina …."
A musical and visual highlight of the evening is "Cease your Funning", a special commission for Mark Morris and three members of his NY company based on a selection of Scottish songs arranged by Beethoven. This is performed live by singer Mhairi Lawson and a small chamber orchestra. This exquisite 13 minute dance combines classic ballet steps, contemporary Isadora Duncan-style free flowing movement, with an overall deliciously gentle romantic mood.
The tagline for Off Kilter is "Get Tae Dance!" which the audience was invited to do for the Ceilidh Finale, with dozens of theatre goers sitting in the stalls going up on stage for a fast and furious rendition of Dashing White Sergeant.
As a fitting end to this year of Homecoming, Off Kilter is a sparkling, sassy and spectacular festive "Chocolate box" treat of ten bite-size dances – whatever your taste, it has something for everyone.
Show Times
29 December - 2nd January 2010, Edinburgh Festival Theatre
6 - 9 January, Theatre Royal, Glasgow
14 - 16 January, His Majesty's theatre, Aberdeen
21, 22 January, Perth Concert Hall
26, 27 January, Eden Court, Inverness