Image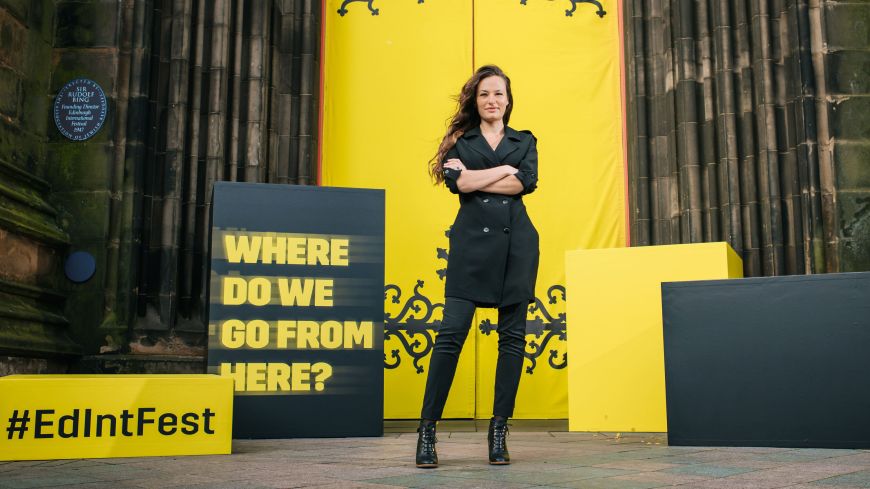 The programme for this year's Edinburgh International Festival was launched today, new Festival Director Nicola Benedetti's first.
Benedetti who has been a passionate advocate for making classical music more accessible, set out a vision for the 2023 Festival "to deliver the deepest possible experience, with the highest quality performances, to the broadest possible audience".
Each week of the festival will explore a different theme - community over chaos, hope in the face of adversity, and a perspective that's not one's own - inviting audiences to consider ideas of identity, community and resilience.
"After we have celebrated 75 years of our Festival, we now enter into a new phase of redefining, together, where we go next," said Benedetti.
Over 2000 local and international artists from across 48 nations, will feature in 295 separate performances.
Conspicuous in its absence is the Edinburgh Festival Fireworks Concert, the popular festival finale in Princes Street Gardens which was always the largest (and loudest) event of the festive month. The last fireworks concert was pre-Covid, in 2019.
The Opening and Closing events, which are typically big, marquee events, reflect a more scaled down and community like approach this year.
The Opening Celebration in Princes Street Gardens will be a free, open-to-all celebration of professional and community music-making from artists from across Scotland.
The final weekend event will be at the former location for the Edinburgh International Book Festival, Charlotte Square Garden, where people can enjoy a "soundscape" of recordings from Festival classical music concerts together.
Highlights of the Edinburgh International Festival 2023 include:
Two programmes from Alvin Ailey American Dance Theater showcase recent works as well as classic repertoire by founder, Alvin Ailey. One piece features local Scottish dancers alongside the professional company.
The Hub on the Royal Mile will be taken over by afternoon and evening informal events and concerts. Performers include Palestinian singer Nai Barghouti, Scottish violinist Catriona Price, the Aga Khan Master Musicians celebrating music from the Silk Road trade route and a special Festival commission inspired by Martin Luther King Jr's visionary final speech, from Detroit-born bassist and house musician of The Late Show with Stephen Colbert, Endea Owens.
The Budapest Festival Orchestra, led by conductor Iván Fischer, will be in residence at the International Festival. One of the four concerts, Dvořák's Eighth Symphony, will be presented in an informal performance in the round, with the audience seated on beanbags amongst the orchestra. The concerts also include an all-Hungarian programme of works with Sir András Schiff and the NYCOS National Girls Choir, Weber and Mendelssohn, a concert celebrating three 19th-century Romantics and an in-conversation between Fischer and Nicola Benedetti exploring orchestras of the future and the orchestra's ongoing commitment to community.
The festival will see three UK theatre premieres - Barrie Kosky's The Threepenny Opera from the Berliner Ensemble, Brazilian film and theatre director Christiane Jatahy's Dusk, based on Lars Von Trier's Dogville, and Tiago Rodrigues' As Far As Impossible, recounting the everyday lives of humanitarian workers in war zones.
The Simón Bolívar Symphony Orchestra of Venezuela will be in residence at the International Festival, bringing its famed young ensemble of players aged 18-25, and conductors Gustavo Dudamel and Rafael Payare for a series of performances, including music from across the Americas and Beethoven's Ninth Symphony.
A new production brings Pina Bausch's acclaimed choreography of Stravinsky's The Rite of Spring to the stage. It features a cast of over 30 dancers from 14 African countries in a double bill with duet common ground[s] from Germaine Acogny and Malou Airaudo.
Another orchestra in residence at the Festival is the London Symphony Orchestra. Its programme will be centered around hope with a concert of choral works from Szymanowski and Brahms; a cinematic programme featuring Principal Guest Conductor Gianandrea Noseda, Messiaen's Turangalîla Symphony; and an on-stage conversation between Nicola Benedetti and Sir Simon Rattle looking at the world of the LSO.
The Festival will feature its most substantial programme of Korean artists in its 76-year history, in celebration of 140 years of diplomatic relations between Korea and the UK. Performances include the KBS Symphony Orchestra in their first UK appearance; International Festival debuts from multi-award-winning performers, pianist Yeol Eum Son and violinist Clara-Jumi Kang; first prize winners of the International Mozart Competition, the Novus String Quartet; and a fusion of ancient Korean storytelling, K-pop and Greek tragedy in Trojan Women by the National Changgeuk Company of Korea. Trojan Women features original music by K-pop producer and Parasite and Squid Game composer Jung Jae-il, in collaboration with renowned pansori master Ahn Sook-sun.
Three immersive works will run for the entire duration of the festival: the Lost Lending Library from Punchdrunk Enrichment, welcoming young people aged 6-11 (and their parents or carers) into a magical traveling library; FOOD, an absurd dinner party from New York City-based theatre-maker Geoff Sobelle; and the National Theatre of Scotland's "uniquely Scottish" Thrown, from writer Nat McCleary under director Johnny McKnight.
Operatic works including a concert performance of Tannhäuser, the only major Wagner opera that has not been performed at the International Festival. Wagner expert and Edinburgh local Sir Donald Runnicles conducts the Deutsche Oper Berlin, featuring American tenor Clay Hilley making his role debut as Tannhäuser; Mozart's enchanting masterpiece The Magic Flute performed in concert by the Scottish Chamber Orchestra and Chorus; and a radical retelling of Bartók's Bluebeard's Castle presented by Theatre of Sound, reimagining the relationship between Bluebeard and Judith as a husband and wife facing the reality of living with dementia whilst celebrating their long love.
This year's contemporary dance programme features Phaedra/Minotaur with a double bill from opera and theatre director Deborah Warner and choreographer Kim Brandstrup, with Benjamin Britten's stirring final cantata Phaedra. Also, L-E-V return with the final installation of their acclaimed Love Cycle Trilogy, Chapter 3: The Brutal Journey of the Heart.
The UK premiere of Ogresse, a new musical journey of myth and song from three-time Grammy Award-winner Cécile McLorin Salvant. Cécile also performs in the Usher Hall for a special concert fusing jazz with blues, theatre and storytelling.
World-leading orchestras are center stage in Edinburgh's Usher Hall, including: the Oslo Philharmonic Orchestra, Deutsche Oper Berlin, Royal Scottish National Orchestra, BBC Scottish Symphony Orchestra and the Scottish Chamber Orchestra and Chorus with a concert performance of The Magic Flute, featuring a newly commissioned narration read by Thomas Quasthoff.
The Festival will not be back at the Leith Theatre this year, but four venues will host a contemporary music programme featuring electro-pop icon Alison Goldfrapp; sitar virtuoso Anoushka Shankar; founding member of The Velvet Underground, John Cale; indie chart-topper Jake Bugg; Japanese folk artist Ichiko Aoba; award-winning Irish neo-folk group Lankum; Grammy Award-winning bluegrass band Nickel Creek; and experimental electronic icon Matthew Herbert.
Intimate morning recitals at The Queen's Hall featuring pianists Mao Fujita, Leif Ove Andsnes and Bertrand Chamayou; vocal recitals from singers including Julia Bullock with pianist Bretton Brown, Iestyn Davies, Catriona Morison; and chamber music from the Isidore String Quartet, the Amatis Trio, Jupiter Ensemble and more.
Edinburgh International Festival 2023 takes place from 4-27 August. General booking opens at www.eif.co.uk on Wednesday 3 May, with tickets currently on-sale to Members and supporters.