Image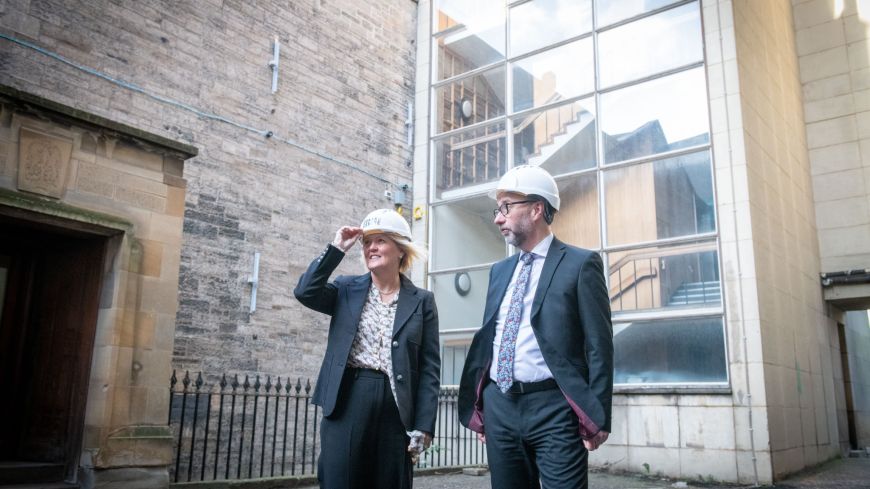 Edinburgh's first new concert hall in over 100 years, the Dunard Centre, took a step forward on Thursday with the Royal Bank of Scotland's official hand-over of the site behind Dundas House on St Andrew Square.
The music venue was given the green light by Edinburgh's planning authorities in November 2021 and work is expected to begin later in 2023.
Gavin Reid, Co-Chair of the charity IMPACT Scotland and Chief Executive of the Scottish Chamber Orchestra, joined Alison Rose, Chief Executive of the NatWest Group, of which the Royal Bank of Scotland is a part of. 
The team building the Dunard Centre is led by award winning David Chipperfield Architects with Nagata Acoustics. The 1000-capacity hall will be a new home for Scottish Chamber Orchestra and a key venue for the Edinburgh International Festival, as well as hosting performers of all genres.
"This project is a great example of what can be achieved with close collaboration across the city's public and private sectors," said Alison Rose. The distinctive Dundas House on St Andrew Square, completed in 1774, is the registered office of the Royal Bank of Scotland. The bank is providing a long-term lease for the land which sits directly behind Dundas House.
"The Dunard Centre will be a place where musicians and audiences come together to create and share extraordinary experiences," said Gavin Reid. 
"Through this final design stage we are enjoying the challenge of ensuring excellence in every surface, corridor, seat and handrail. Every detail of the building will be finely tuned to make sure that concert going is an inspirational and exhilarating experience."
It is expected that all clearance work will complete later in 2023 and that work will begin on the new concert hall soon after.   
The Dunard Centre is being funded through substantial philanthropic donations, including the Dunard Fund, and £25 million support from the Scottish and UK governments and the City of Edinburgh Council, as part of the City Region Deal. The remaining funds will be raised before construction begins later in 2023.