Image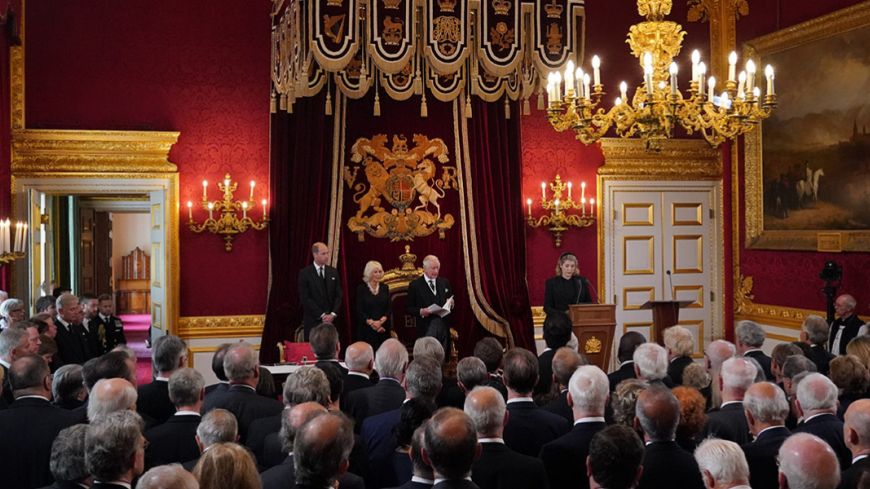 King Charles III will be proclaimed at the Accession Council today at 10am in the State Apartments of St James's Palace, London.
Charles automatically became King on the death of the Queen, with the televised ceremony this morning formalising the beginning of King Charles' reign. 
The Accession Council, attended by Privy Councillors, is divided into two parts. In Part I, the Privy Council, without The King present, will proclaim the Sovereign, and formally approve various consequential Orders, including the arrangements for the Proclamation.
Part II, is the holding by The King of His Majesty's first Privy Council. The King will make his Declaration and read and sign an oath to uphold the security of the Church in Scotland and approve Orders in Council which facilitate continuity of government.
The Accession Council will be followed by the Principal Proclamation, which will be read at 11am from the balcony overlooking Friary Court at St James's Palace. 
As is convention, a second Proclamation will be read in the City of London, at the Royal Exchange at noon and Proclamations will be read in Edinburgh, Northern Ireland and Wales at noon tomorrow (Sunday 11th September).
In recognition of the new Sovereign, flags will be flown at full-mast from the time of the Principal Proclamation at St James's Palace until one hour after the Proclamations in Scotland, Northern Ireland and Wales, after which flags will return to half-mast in mourning for the death of Her Majesty The Queen.
Yesterday, a 96 gun salute was fired by 3 cannons from the ramparts of Edinburgh Castle, one of many salutes up and down the UK to mark the passing of Britain's longest reigning monarch.
Edinburgh City Council opened up a Book of Condolences which has been signed by hundreds of people, with many recognising the late Queen's sense of duty and service. Many thanked her for providing a reassuring sense of constancy in their lives.
"You served this country with stoic dignity and unwavering strength in turbulent times. Now, it is your turn to have a life of peace. Thank you Your Highness," posted Lizzie Smith.
"You've been with me my whole life and are now so very very deeply missed.I will never forget seeing you as a wee girl.I'm so glad you were at Balmoral and happy in a place you loved. For everything thank you Ma'am," said a poster called Alison.
"Thank you for your incredible service and example of commitment. May you rest in peace with your Philip and all your corgies which you loved so much," said Ioana Colfescu. 
The Lord Provost, Robert Aldridge, also gave his own tribute to the Queen saying:
"Throughout HM the Queen's extraordinary reign, she showed great appreciation for her ancient and hereditary kingdom of Scotland. During her countless visits to Edinburgh, she reached out to our charities, veterans, serving personnel, hospitals and children and won a very special place in the hearts of Scottish people."
"Over her seven-decade reign, she has shown unwavering and inspirational dedication to the nation and I pay tribute to her years of service. I'm sure her legacy will be special and longstanding."
As Lord Lieutenant of Edinburgh, Aldridge is the royal household's official representative in the Scottish capital.
"I had the pleasure of meeting her in June at our historic Ceremony of the Keys and it has been my privilege and honour to be her personal representative in Edinburgh. To many she is the nation's mother and grandmother and it is with great sadness that I convey, on behalf of the Scottish capital, our heartfelt sympathies and condolences to all the members of the royal family at this very sad time."
Edinburgh City Council has warned of road closures and traffic disruption in the city during the official mourning period, particularly in the Old Town.
The annual Edinburgh Riding of the Marches which would have seen a procession of horseback riders, pipes and drums, and brass bands on the Royal Mile on Sunday afternoon has been cancelled.
A service will take place at St Giles Cathedral after the Queen's coffin has been brought from Balmoral, where she spent her final hours, to the Palace of Holyroodhouse.