Image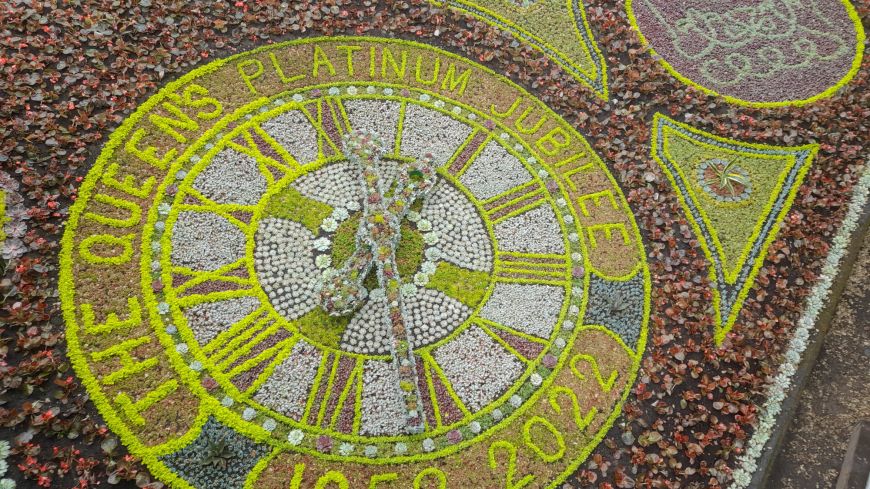 Edinburgh is marking the Queen's Platinum Jubilee today with a variety of celebrations over the four-day long weekend, including a 42-gun salute at noon from Edinburgh Castle and the lighting of a fiery Jubilee beacon, again at Edinburgh Castle, this evening. On Sunday afternoon, members of the public are being invited to a big Platinum Jubilee picnic in West Princes Street Garden.
Edinburgh's famous Floral Clock is also marking The Queen's 70th year on the throne. Each year, since 1946, the botanical time-piece marks a special event or anniversary.
The working clock has a circumference of 36 feet, and is 11 feet 10 inches wide. The clock hands (when filled with plants) weigh 80lbs and 50lbs.
It took a team of five gardeners four weeks to plant over 35,000 flowers and plants. The plants were brought on earlier than in previous years in time for the Jubilee celebrations starting today.
There are nine different plants in this year's design including Agaves, Echeveria, Sedums, Pyrethrum, Crassula, Kleenia, Antenaria, Geraniums and Begonias.
Edinburgh's Lord Provost Robert Aldridge said: "I am delighted to once again see the city's beautiful floral clock completed, and in perfect time for the Jubilee weekend.
Each year the iconic clock marks special occasions and events in the heart of the Capital and this year it is a unique tribute coinciding with celebrations taking place around the country as the nation marks the Queen's 70-year reign.
My thanks and congratulations to the dedicated and creative parks team who have put together the design that I'm sure will be enjoyed by everyone who passes by it this summer."
The Floral Clock is on the sloped flower bed by the steps into Edinburgh's West Princes Street Gardens, at the foot of The Mound.
More on Edinburgh's Floral Clock