Image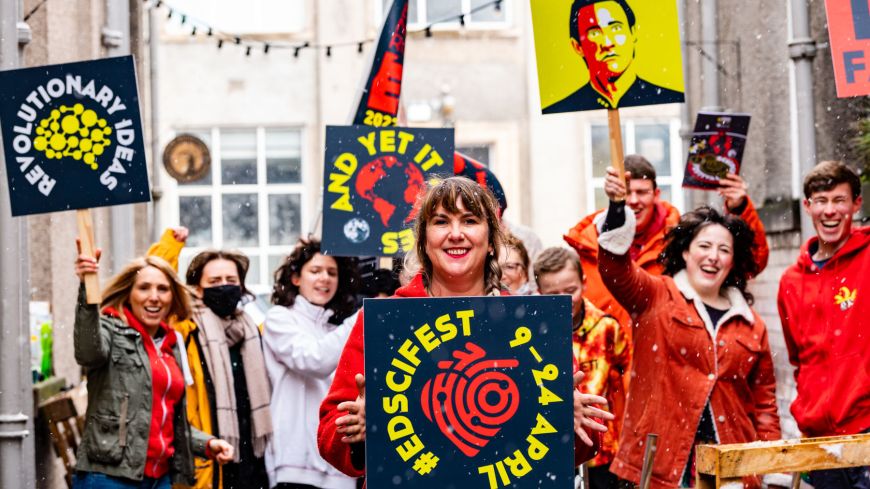 It's less than a month now until the Edinburgh Science Festival 2022 rolls out with hands-on activities and STEM-styled events for all ages. 
With the cancellation of Edinburgh's Hogmanay at the start of this year, and ongoing concerns about the pandemic, there was good reason to feel a little trepidation about returning to an in-person format for "Europe's biggest science festival". 
However, Edinburgh Science Festival's Creative Director Amanda Tyndall is looking forward to bringing back the first  festival in three years where they will be able to welcome audiences back to their lab bench.
"We are delighted and excited to be getting back to what we love, delivering live events that bring people together for a world of new experiences in the name of science," declared Tyndall on launching the programme a fortnight ago. 
Back in its traditional, pre-pandemic Easter holidays slot (9 - 24 April), the Science Festival is the first of the major Edinburgh festivals to take place in 2022.
With a programme geared toward holidaying kids and curious adults, the festival hopes to attract a broad swathe of the populace. Organisers say that more than half of the Science Festival programme is free.
A strong climate and ecological vein runs through this year's festival programme, with its main theme, "Revolutions", inspired by James Lovelock's revolutionary Gaia theory. It is 50 years since Lovelock first referred to his Gaia hypothesis in print, drawing public attention to the inter-connectedness of ecological cycles that are essential to sustaining life on Earth.
Activities, talks, and workshops will focus on the urgency of the climate crisis and explore lifeforms, life cycles, revolutionary ideas and solutions to global challenges.
In Gaia at 50, leading physicists, philosophers and climate scientists Prof. Chris Rapley, Gaia Vince, Oliver Morton, Dr Stephan Harding and Prof. Tim Lenton, look back on Gaia's influence.
In a world awash with disinformation, acclaimed physicist and BBC presenter Prof. Jim Al-Khalili will offer eight short lessons on "how to unlock the clarity, empowerment, and joy of thinking and living a little more scientifically". 
Another highlight is Arup director David Wilkes with a look at how planners can future-proof our cities for climate change impacts in Preparing for Extreme Weather Events, and in Animal, Vegetable, Criminal, best-selling American science author Mary Roach envisions how new technologies might offer hope for a more compassionate coexistence between animals and humans.
The pressing issue of how we balance nature and humankind will be explored by this year's Edinburgh Medal recipient, Dr Gladys Kalema-Zikusoka. The Ugandan veterinarian, and pioneer in community-led wildlife conservation, will give the Edinburgh Medal address on 20th April.
Kids play
One of the main destinations for families this Science Festival will be the City Art Centre, which returns with its  science playground, across five floors, for children as young as 3 years old. It includes two new workshops this year - young Nature Explorers meeting endangered species and Ocean Constructors where kids build their own underwater landscape.
The National Museum of Scotland will be another cauldron of scientific exploration, hosting workshops, discussions, and an exhibition, Datasphere (9 – 24 April), looking at the power and influence of big data on increasingly data-centric lives. 
Learning activities at the National Museum will cover the link between chemicals and the environment (How We Recycle Chemicals?), immunology and 3D printing (Amazing Immunology: Build a Vaccine!), and infectious diseases (Disease Detective). 
Cyber Zone is back – accompanying the Datasphere exhibition – with tech-focused workshops, from designing an app, a video game or a piece of electronic music to a data-driven piece of digital art.
 
There are 13 participating venues in and around Edinburgh this year, including a new sociable science, mini hub at Assembly Roxy. 
There's also Dynamic Earth with Discovering the Deep, a marine science exhibition that includes the story of Edinburgh's own Charles Wyville Thomson. His exploration of Scotland's marine environments in the 19th century launched the modern science of oceanography.
Visitors will also be able to, among other things, take part in a Boat Building workshop or experience the new, live show in Edinburgh's only planetarium, Under Pressure, which delves into the hidden ecosystems of the deep oceans.
Down to Earth
A free exhibition on the Mound Precinct, "Consumed" (9 – 24 April) tackles the wastefulness of modern lifestyles while championing circular economies and the need to reach "net zero". 
As the festival coincides with the start of the growing season, it's an opportune time to visit the Royal Botanic Garden Edinburgh to learn about the importance of rotational growing in the veggie plots and try other family-friendly activities in the Engaging Gardens Spring Festival. The annual Easter Trail is also back at the garden.
The Botanics will also host botanical art exhibition Seeing the Invisible, featuring 13 augmented reality (AR) works by artists including: Ai Weiwei, Isaac Julien CBE, Daito Manabe, El Anatsui and Refik Anadol. The venue also presents A Rose By Any Other Name, an exhibition all about the obsession, threat and the riddle of rhododendrons.
There's a variety of different self-guided walks in and around Edinburgh, from connecting  animals at Edinburgh Zoo with creatures from the pre-historic era (Meet the Ances-Tour) to learning about Edinburgh's volcanic beginnings in Holyrood Park (Exploring Edinburgh's Volcano).
Opening ahead of the Festival, on 19 March (and ending 24 April), Wild Scotland on Portobello Promenade is a free, large-scale photography exhibition reflecting on Scotland's precious natural heritage. 
Bodily matters
Summerhall's Bioverse visual arts exhibition encompasses art, science and technology in an exploration of the dynamic biological revolutions within our natural world, with a particular focus on healthcare systems, coastal wetlands and our relationship with the microbial world. 
Elemental by Bright Side Studios returns with its immersive, multisensory exploration of the theory of the elements, also at Summerhall.
And in a special talk G-Lands: An Out of Body Experience, accompanying an exhibition under the same title at Summerhall, medical artist Emily Fong and Dr Elaine Emmerson delve into the fascinating processes of the salivary gland, observing its journey from patient to laboratory, and assessing what its aspirations are outside of the body and beyond.
Bodily matters crop up in Death and Beyond with Cat Irving, Human Remains Conservator for Surgeons' Hall Museums, and forensic pathologist and author of The Seven Ages of Death, Richard Shepherd, in which they will show how what we leave behind can tell the story of how we lived.
In Edinburgh's George Square, a special exhibition Secrets of Healthy Cognitive Ageing delves into the unique history of the Lothian Birth Cohort, a group of people who had worked with researchers at the University of Edinburgh since in 1932 they sat a test measuring their thinking abilities. It asks what can this research tell us about our brain health and ageing.
Legacies and Futurism
Edinburgh-born and educated, 19th century physicist James Clerk Maxwell made huge contributions in our understanding of electromagnetism and light. Astronomer Royal for Scotland Prof. Catherine Heymans and black hole hunter Prof. Martin Hendry recognise his achievements in Scotland's Einstein. 
How Robots will Help us in the Future takes audiences on a voyage into the future with CEO of the new National Robotarium Stewart Miller alongside Heriot-Watt's Prof. Lynn Baillie as they explain how robots will help us stay safe, healthy and productive in the decades to come.
Trust in Me explores how Artificial Intelligence and evolving technology is causing us to think differently about who we are and who we might become. Tracey Follows, professional futurist and AI-human interface expert Kate Devlin delve into the dreams and nightmares of our digital future.
The festival programme came out before Russia's invasion of Ukraine, but one highly pertinent talk to the horrifying  war will be Ken McBain's Dictatorship, Revolution and Technology, which is billed as an exploration of "the powers and pitfalls of modern communications technology for both regime and rebellion in the troubled nation of Belarus".
Lates
On the social side, there is a Science Festival late night for adults at the City Art Centre and another at the Datasphere exhibition at the National Museum of Scotland, Data After Dark.
The Scottish Government supports the Edinburgh Science Festival this year through Festivals Expo Fund (£130,000) and Platforms for Creative Excellence Programme (£177,333), both administered by Creative Scotland.
Cirrus Logic returned as the Science Festival's Headline Sponsor in 2022 with matched funding from the Culture and Business Fund Scotland.
Amanda Tyndall said: "We encourage everyone to join us this April for a thoughtful yet joyful celebration of the role that science and Festivals play in our lives – sharing the joy of discovery, celebrating the human spirit and shedding fresh light on the key issues shaping our future – and let the good times roll!"
Edinburgh Science Festival runs 9th - 24th April. Book tickets at ScienceFestival.co.uk.