Image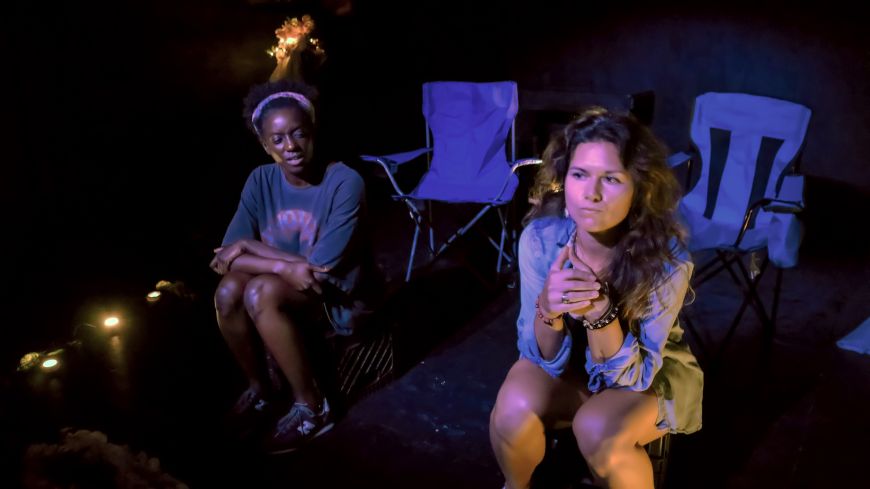 Company
Infinite Variety Productions
Production
Ashley Adelman (Writer, Director)
Performers
Kate Szekely (Kaitlyn); Marie Davis (Frances)
Pretending to Fly is part-fiction, part-non-fiction, based on interviews with Carla Horowitz, a Women Airforce Service Pilot during WWII, and NYC residents during the Covid pandemic. The premise looks at the impact of women in the world and how they are recognised: has it changed and if so, what is that change? Fictionalised to be a heated discussion between two friends it explores history and present in equal measures.
This piece is in good hands with the talented duo of performers Kate Szekely and Marie Davis. Both are highly watchable and skilled in their craft. They have created believable friends and engage us in their onstage debate and discussion about how far change has come between the time of world wars until now, in terms of women and discrimination of all kinds. There are mentions of those women who – until only relatively recently – were unknown and yet had been instrumental in their contribution to change, to wars and to the good of the world, but a large focus is on Horowitz and the sadness of a world where she once flew, then once the war was over never flew again. What does it mean to have something so important taken away from you?
Writer and director Ashley Adelman has an interesting take in telling these two worlds. The connection between the Covid world and WWII is not always successful. It feels too much like a heated debate rather than a fuller comment on women's place in the world which it seems to be aiming for with the use of Horowitz's story. Nonetheless, it is an interesting piece, well directed and performed, and any story of a hidden women from history is to be celebrated.
Show Time: 15-26 August @ 16:05
theSpace @ Symposium Hall
Ticket Prices: £8-£10
https://tickets.edfringe.com/whats-on/pretending-to-fly
Accessibility: Wheelchair access type: Permanent Ramp. Age: 12+ (guidance)