Image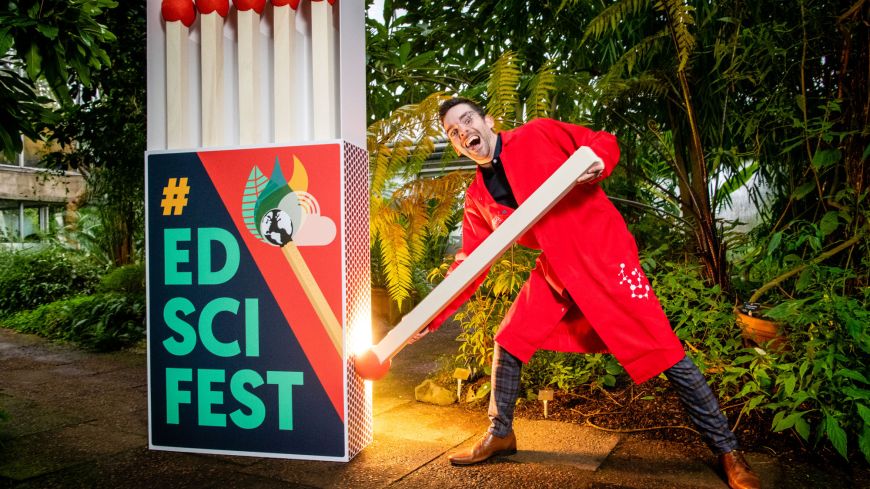 The Edinburgh Science Festival returns in a month with around 250 family and adult events at 34 venues over the Easter break.
The 2020 Edinburgh Science Festival, running from 4 and 19 April, celebrates the 50th anniversary of Earth Day with a programme of events looking at sustainability and survival in the era of the Climate Emergency.
Building on this year's core theme "Elementary", the festival of all things STEM uses ancient classifications of Earth, Air, Fire, Water and Aether as lenses to explore global environmental challenges and opportunities.
"We share our planet with almost eight billion people and the collective environmental challenges we face have never been greater or more complex," says Amanda Tyndall, Festival and Creative Director at Edinburgh Science. 
"As the custodians of planet Earth we have a responsibility to ourselves and to future generations." 
Last year, the Science Festival ended long-time partnerships with some of its fossil fuel sponsors, amidst criticisms that the companies were using the festival to "greenwash" their brands. 
This year, with the world's leaders meeting in Glasgow for the UN's annual climate summit,  COP26, the Science Festival is putting climate change front and centre in its Easter programme, with a series of talks and events looking at the future of life on a warming planet.
Nothing could be more emblematic of the festival's Earth Day theme than artist Luke Jerram's Gaia, a three-dimensional, luminescent model of the Earth that will hang at the Dynamic Earth (4-22 April). 
Half a century ago astronauts marvelled at the view of Earth from space. Jerram's model Earth encourages that same sense of awe and connectedness, described as the Overview Effect. Seven metres in diametre, Gaia is 1.8 million times smaller than the real thing. Each centimetre of the artwork recreates 18km of Earth's surface in 120 dpi detail using satellite imagery from NASA's Visible Earth series.
This is also Scotland's Year of Coasts and Waters, with the festival exploring the twin threats of ocean acidification and sea level rise, caused by our species' continued pumping of greenhouse gases into the atmosphere.
Appreciating what we stand to lose is a big part of the free, flagship exhibition Pale Blue Dot at the National Museum of Scotland. It hopes to awe and educate with its interactive, multi-sensory exploration of the ocean's often mysterious and little-known ecosystems.
Similarly, Into the Blue, a free, large-scale outdoor photography exhibition, opening on 18 March on Portobello Promenade, will shine a spotlight on Scotland's coastlines and oceans, looking at their biodiversity and their potential, but also the multiple threats they face whether it be over-fishing, acidification, or warming waters.
"The climate crisis is the defining local and global challenge of our age," says Tyndall, describing it as "one of the great disruptors of the 21st century, radically reshaping how we live, work and play".
"But with disruption and uncertainty comes possibility, and with possibility comes hope, this hope is the elementary message at the heart of our 2020 Science Festival programme."
Get lost in the Digital Aether
Given the broad scope of the Science Festival's ecological theme it's encouraging to see input from the art world. For example, students from Edinburgh College of Art will host an exhibition Ocean Threads of costumes and design books made from 80% recycled materials. 
Artist and activist Dr Roman Viguier will lead The Carbon Walk, with each person carrying a 5kg bag, the equivalent of 3.5 hours of the average carbon footprint in the UK, from Dynamic Earth to the Edinburgh Centre for Carbon Innovation where those bags will form part of an installation representing one tonne of carbon dioxide.
A big draw will also be Elemental at Summerhall: Bright Side Studios, which is described intriguingly as "a digital immersive experience combining magic, alchemy and science". 
Look out for the exhibition Oscillations at Summerhall, where Victoria Evans makes tidal data audible, including the soundtrack of Edinburgh's coastline.
The Pleasance's Cyber Zone is packed with events covering technology, computing, programming and artificial intelligence (AI) for old and young. This includes, among others, programming a self-driving car, Festival-favourite App Factory, and soldering a small circuit board to play a tune.
Over at Collective, in Planet of People, artist Julijonas Urbonas will 3D scan visitors then merge them into an artificial planet made entirely from human bodies.
There's also a whole strand of foodie events around Gastrofest, ranging from food security to a panel looking at the "symbiotic" relationship between whisky and the Scottish environment. 
Earth Talks
The sustainability theme is echoed in the Science Festival's extensive talk series. For example, senior scientific advisor for Blue Planet II Prof Callum Roberts will focus on the precarious state of the world's reefs.
This year's Edinburgh Medal recipient is the Indian environmentalist and political activist, Sunita Narain. She'll be sharing insights into effective climate action based on her experience in Indian and global environment and development policy formulation.
Talking of Earths, co-creator of The Ecological Footprint analysis Dr Mathis Wackernagel will discuss how many we are using right now as we overshoot our planet's carrying capacity and Dr Helen Pilcher will consider how humans are whipping up the evolutionary pot in "How Humans Are Altering Life on Earth".
Prof Monica Grady (European Space Agency and the Open University) focuses on the fascinating versatility of carbon in Element Six, while Mark Neller from engineering firm Arup will talk about the viability of hydrogen power at scale (separately there's a kids workshop where you can build a hydrogen-powered car).
Among talks on other themes that grab one's attention are "How to Argue With a Racist" with the host of BBC Radio 4's Inside Science, Dr Adam Rutherford and tales of endurance from Edinburgh-based Markus Stitz, who cycled 34,000km around the world on a single speed bike.
Kids' Destinations
Taking place over the school holidays, a big part of the festival is tried and tested, fun science activities with many Edinburgh venues geared toward kids.
The City Art Centre remains the festival's flagship family venue - a science playground with five floors of hands-on STEM activities, including the popular Blood Bar and ER. Two new activities this year are Ocean Constructors, where little explorers build an underwater landscape, and Creative Coding with Marty the Robot.
After a successful first year, the Pleasance returns with an expanded Experimentarium for five days of activities around molecules, maths and the like, and a special dinosaur-themed Easter weekend extravaganza.
Edinburgh Zoo has an Eco-Detective trail where kids learn about sustainability and in Disease Detectives at Royal Botanic Garden kids learn about illness-causing bugs.
Robots are on display at The National Museum of Scotland: Hands-on Robots introduces Arduino-powered wheeled robots created by students of Napier University, while Talos Humanoid Robot Showcase presents Talos, a six-foot-tall humanoid robot and the newest addition to the robotics research lab at The University of Edinburgh.
Meanwhile, in Polar Ice Worlds: Heating Up and Melting Down scientists will host hands-on demonstrations, interactive activities, and talks from the polar regions of our planet over two days at Dynamic Earth.
In short, the Edinburgh Science Festival has laid out a packed programme of activities, some serious, some fun, all geared toward expanding one's horizons.
Book tickets for this year's Science Festival at at sciencefestival.co.uk or call 0131 226 0005.