Image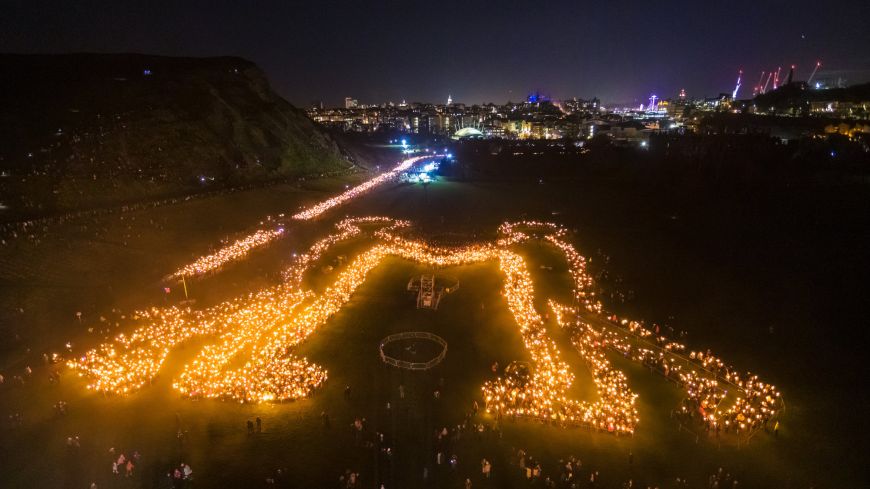 Around 40,000 people gathered for this year's Torchlight Procession, the opening event of the three-day Edinburgh's Hogmanay Festival.
Led by 40 members of Celtic Fire Theatre company, PyroCeltica, and Edinburgh's Harbinger Drum Crew, thousands of torchbearers walked from three points of the city down to Holyrood Park in a "river of fire".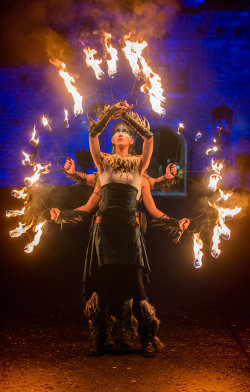 PyroCeltica wielded fire fans, huge flaming claymores, fire staffs, and even sported a fiery Mohican while the Drum Crew pumped out thumping beats, including on flaming drums.
Then at Holyrood Park the torchbearers were organised into a massive flaming image of two people reaching out a hand in friendship, a visual expression of this Hogmanay Festival's "Be Together" theme.
The flaming symbol was captured by a photographer in a helicopter overhead.
The event's house band, The Torches, and guest artists Clanadonia played a set at Holyrood Park with the event culminating in a thunderous fireworks finale from Calton Hill.
Ten Pipe & Drum bands from across Scotland took part in the sold-out event (see below) which raised over £9,400 for the OneCity Trust. A donation of 50p was made from each Torchlight Procession ticket sold.
The Lord Provost of Edinburgh Frank Ross who is a Patron of the OneCity Trust was among those at the head of the torchlight procession.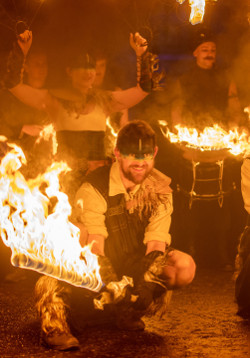 Charlie Wood and Ed Bartlam, directors of Edinburgh's Hogmanay said: "The sold-out Torchlight Procession was Edinburgh's Hogmanay's iconic opening event. A moment in the year when thousands of people came together at the start of Hogmanay to celebrate the end of the year and extend a hand of friendship physically in the flaming symbol created in Holyrood Park and metaphorically to their friends and neighbours. An image to be proud of, of warmth, welcome and friendship set against the beautiful backdrop of Edinburgh."
The big event of the festival marking the new year is Edinburgh's Hogmanay Street Party on Princes Street tomorrow evening. The event will be livecast globally.
Pipe Bands at Edinburgh's Hogmanay Torchlight Procession 2019
The Bigger RBL (Royal British Legion) Pipe Band
Cockenzie & Port Seton RBL Pipes & Drums
Scottish Borders Pipe Band
The Edinburgh Samba School
Hawick Scout Pipe Band
Boghall and Bathgate Caledonia Pipe Band
Glencorse Pipe Band
Preston Lodge High School Pipe Band
Edinburgh Postal Pipe Band
Pulse of the Place