Image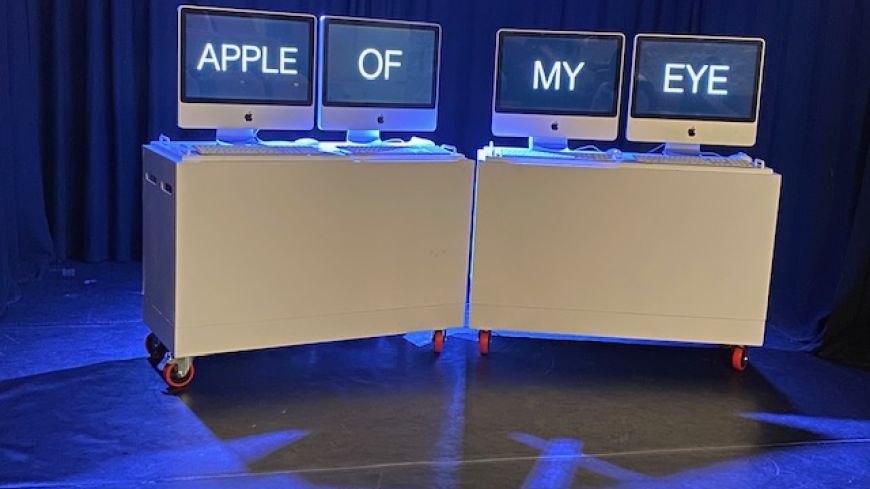 Company
Early Mornings Productions
Production
Early Mornings Productions
Performers
Stephen Smith (Steve Jobs)
A musical homage to the tortured genius that was Steve Jobs, this is a fascinating insight into his life and ponders what regrets he may have had. Jobs, the founder and creator of Apple, the tech giant (over 21% of the world's smart-phone users use iPhones according to market research), was not an easy man to work with or be around. In Early Mornings Productions' show, they sensitively, but honestly, explore his life.
The use of four Macs in the show works exceptionally well. It is always a risk using live tech – and at one moment there was a hiccup, handled with ease by Stephen Smith, who portrays Jobs – but because tech is synonymous with the Jobs story, it would seem strange not to include them. They glow in the background and feel like the underlying presence bubbling away in Jobs brain, the tech that he was always thinking about and striving to improve. He changed the world, and this show celebrates it. However, there is no shying away from the difficult areas of Jobs personality.
Stephen Smith creates a believable Steve Jobs: he draws us in, and we recognise the iconic tech-confident but people-awkward Jobs is much more at home with the tech. That he did not understand how to deal with problems, was tortured himself due to fears about his place in the world, possibly stemming from being adopted. The songs that accompany the story are well-written, although some sound more finished than others. Smith has a powerful voice on him which adds to making Jobs feel like a tangible person. If you are fascinated by the history of Apple and its creator, you should not miss this show.
Show Time: 19 August @ 15:35
Paradise in the Vault
Ticket Prices: £10-£12
https://tickets.edfringe.com/whats-on/apple-of-my-eye
Accessible entry: The audience enter the venue from Merchant Street, with the box office located on street level. 3 steps or a lift provide access to the upper foyer, with snack bar and toilets on this level. The space is located immediately off the upper foyer, with one row of seats on the same level. A shallow rake provides additional seating. Wheelchair access type: Platform Lift. Stairs: 2 – 5. Age: 12+ (Guideline). Contains distressing or potentially triggering themes, strong language/swearing.