Image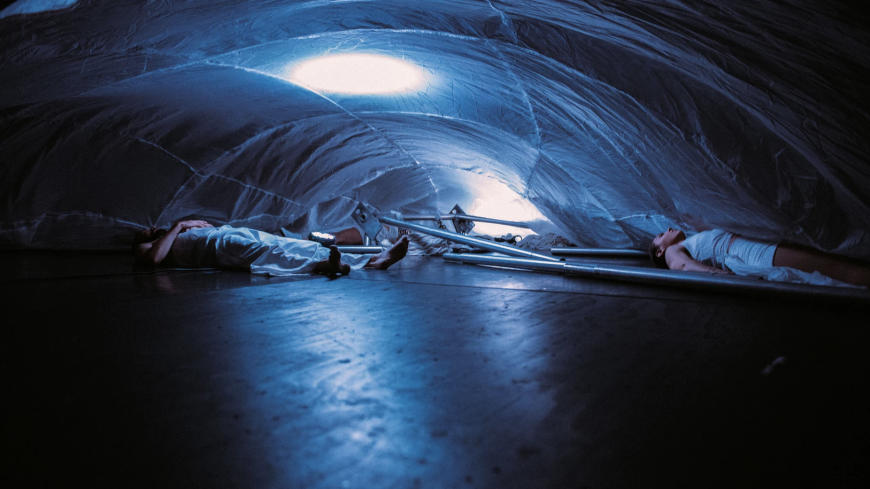 Company
Aloft Circus Arts with Rhymes with Purple
Playful and immersive, the international premiere of all-female Brave Space from Chicago-based Aloft Circus Arts company is a bold yet delicate community experience for all ages. 
The close-up nature of the show means that tiny moments of intimacy that might go amiss in larger-scale acrobatic productions sink into the hearts of the onlookers; tender embraces between the performers and knowing smiles exchanged after a two-hander trapeze keep the audience feeling more than witnesses but partakers in the performance, left feeling like they've been let in on a secret between friends. 
Keeping in mind the technical and physical skills required for this gravity-defying production, it is a lofty ambition to bridge the gap between performer and audience, but Brave Space dares to achieve this and is ultimately more successful in some parts than others.
Conceptually, varying degrees of audience mobility needn't play such a major factor given the design of this experience, but the production struggles to accommodate this within the actual confines of the space. With 100 people packed into the white tent-within-a-Spiegeltent, vision will be obscured for many at times and in certain moments audience members may have to hold up parts of the set to see at all (but perhaps this is how Aloft has designed it to be!). Expect to be sitting cross-legged and cosied up on the floor for the majority of the performance, which admittedly adds to the playfulness. One scene in particular is majorly awe-inspiring, as the audience lays on their backs in trust and astonishment at the aerialist display of balance and strength above them. It should also be mentioned that the accompanying soundtrack is beautiful and elevates the performance (pun not intended). 
At 11am in Underbelly's Circus Hub on the Meadows, this is a particularly family-friendly show; children's faces are a joy to watch here, as they witness the marvels of strength and grace around and before them. For adults, it is equally fun and hearkens back to intimate moments from childhood: collectively dashing under a parachute in gym class, cocooning yourself into a blanket fort with your siblings, scooting under your mom's giant skirt, to name a few. 
This apparently was the first performance of the run, which resulted in a few teething problems, namely a benign malfunction at the end which meant the finale sadly went unseen by today's audience. No doubt Brave Space will find its stride this week and will go on to delight the rest of Edinburgh's circus-loving audiences. 
Brave Space tickets: here (£12 - £14)
Aug 7-14, 16-21, 23-27 | 11:00
Suitability: 0+