Image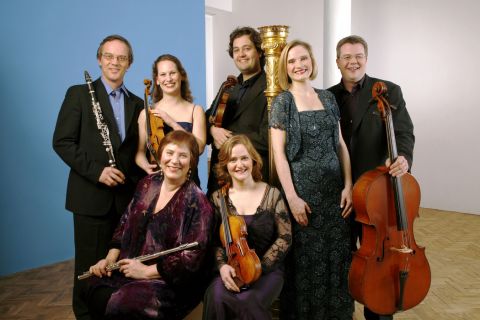 Production
Edinburgh International Festival
Performers
Alasdair Beatson (piano), Adrian Brendel (cello), Richard Hosford (clarinet), Marianne Thorsen (violin)
Saturday morning's EIF chamber concert at the Queen's Hall featured players from the Nash Ensemble – Alasdair Beatson (piano); Adrian Brendel (cello); Richard Hosford (clarinet) and Marianne Thorsen (violin).  They chose to perform a varied programme in keeping with the ethos of the ensemble since their inception in 1964 in which they are committed to performing contemporary composer's works alongside the more traditional chamber music.
They began their recital with one of Beethoven's early chamber compositions his Trio in B flat major for clarinet, cello and piano Op11.  It obviously gives the musicians great pleasure performing together as they frequently looked animated when eliciting a perfect rendition of ensemble playing.  On his clarinet, Richard Hosford displayed great artistry effortlessly scaling the sometimes complex passages.  All the musicians – Alasdair Beaton on piano and Adrian Brendel on cello masterfully portrayed the tonal changes redolent in this piece. 
James MacMillan is the featured composer in this year's International Festival.  Currently one of Britain's foremost composers, the Ensemble chose to perform his Fourteen Little Pictures, for piano, violin and cello.  Although the title suggests it is fourteen separate pieces, MacMillan has successfully interwoven them into a whole.   Perfectly at home playing a modern, discordant composition as they are with traditional chamber music the musicians impressed with their virtuosity as the music rapidly alternates in pace and timings.  The playing was superb.
Alasdair Beatson is a remarkably talented pianist (although his left foot is at times like a loose cannon, as in the feverish passages he involuntarily taps in time to the music).  Adrian Brendel elicits the sweetest sonorous sounds on his cello and Marianne Thorsen is an exceptionally talented violinist.  After much turbulence, the composition concludes with complete stillness, exaggerated by Beatson's playing.
The final piece on the programme was Dvorak's Piano Trio in E minor Op90, 'Dumky.'  In six movements, the term 'dumky' derives from the Ukraine and refers specifically to a song or lament.  The Slavonic influence is peppered throughout this enchanting composition which the musicians – Beatson, Brendel and Thorsen - played with aplomb.  It was a perfect showcase for these immensely talented musicians.