Image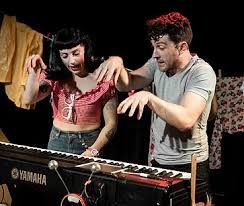 Production
Sarah Redmond (Director), Joe C Brown (Producer), Alex Hopkins (Lighting Designer), Rachel Pryces (Stage Manager & Operator
Performers
Lala Barlow, Robbie Smith
Suitcases packed to bursting point with hysterical characters, sharp-witted lyrics and possibly the world's tightest duet sequence, Australian couple, Lala and Robbie, have moved into The Worst Little Warehouse in London.
This dynamic duo from down under are here at Edinburgh's Festival Fringe to share their unbelievable skills and even more unbelievable tales from their time in a shared loft in London Town.
There's a vegan, a sexually addicted yogi, a fitness freak and that's just for starters. With the simplest of props, Lala Barlow and Robbie Smith embody each of their flatmates in turn regaling the audience with tales of unsanitary toilets, passive aggressive notes on the fridge and the noises that a closed door simply cannot hide.
Featuring a reimagined version of You're a Good Man, Charlie Brown 's 'Book Report' (which in this case is about Bill & Nelly, told with on stage lyrics, created with emojis), and a new rendition of Little Shop Of Horrors hit about a roomie's toilet habits that gives new meaning to Skid Row, Barlow and Smith have adapted the lyrics from many familiar musicals, such as Wicked, Legally Blonde and many others. Along with these ingenious recreatations, the couple duet spectacularly- and not just vocally. Their pianist skills are incomparable. Carefully choreographed to the second, these musical marvels play as if they are one pulsing being - completely in sync.
Director Sarah Redmond's attention to detail prevents the prop heavy production from sliding into chaos. The production climaxes with the couple attending the "family" dinner with every flatmate on hand to have their say about something or other. The conception and execution of this scene alone is a triumph in multi-role performance.
A mind-bogglingly funny story of companionship, shared accommodation, and how to grit your teeth and bare it - this is a tale that must be told. Yet, it is the musical talent of this production and the intricacy of its staging that add the wow factor.
Runs 2 - 26 Aug (Not 13)