Image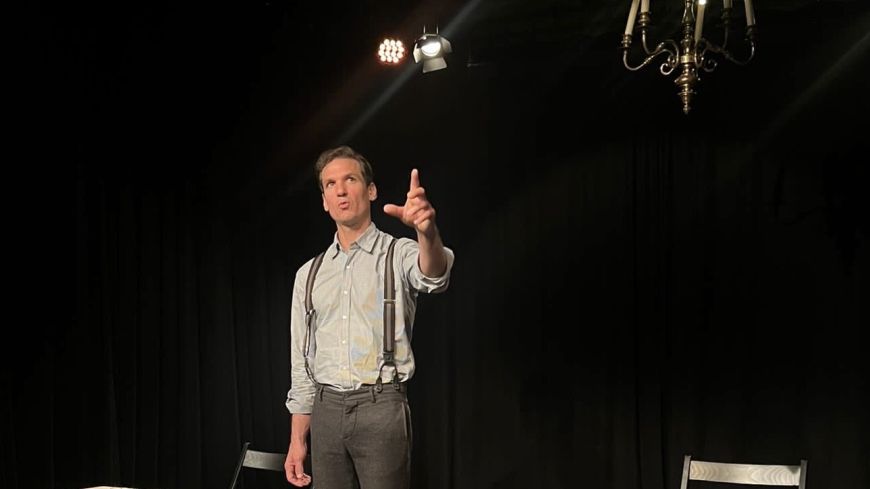 Production
Luke Townson (Dr Martin Hesselius, Reverend Jennings, various)
Production – Joseph Sheridan Le Fanu (Writer, original short story); Luke Townson (Adaptor, play script); Sam Haft (Director); Paradise Green (Photography)
In this one-man show, Green Tea, performer Luke Townson inhabits the dark world of the gothic thriller. Adapted by Townson from the original 19th century text by Joseph Sheridan Le Fanu, this is an intense, psychological exploration of evil and how it can manifest in the mind. Townson's writing is atmospheric and eloquent. 
Townson is a very talented performer with his skill in accents and restrained physicality clearly on display. Townson's nuanced acting is earnest: he inhabits his characters fully and these feel like rounded people. His facility with accents and storytelling make it feel that this drama would also work very well as an audio piece, as the exposition paints clear imagery of the unfolding story, with the voices of the different characters very clear.
With such an intense performance, it may have helped the theatricality of the piece to have less static movement in the direction, which was sparse. More use of the space could have enhanced the storytelling elements as this felt limited. Nonetheless, Townson is a very skilled writer and performer, and has found his place in the world of psychological horror.
Show Time: 21-27 August @ 16:55 (now ended)
Paradise in the Vault
https://tickets.edfringe.com/whats-on/green-tea
Accessible entry: The audience enter the venue from Merchant Street, with the box office located on street level. 3 steps or a lift provide access to the upper foyer, with snack bar and toilets on this level. The space is located immediately off the upper foyer, with one row of seats on the same level. A shallow rake provides additional seating. Wheelchair access type: Platform Lift. Stairs: 2-5 Age: 12+ (Guideline)
Warnings and additional info: Contains distressing or potentially triggering themes (references to supernatural)