Image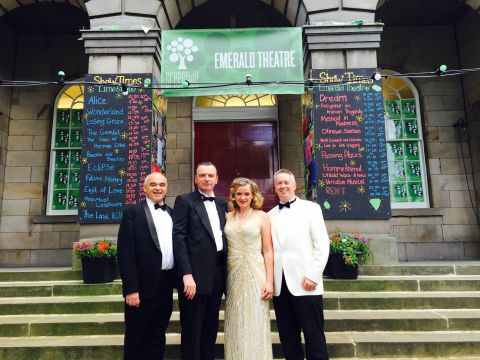 Company
Searchlight Theatre Company
Production
David Robinson (writer), Clive Dunstall (musical arrangement)
Performers
David Robinson (Noel Coward), Mandy Watsham Dunstall (Gertrude Lawrence), Colin Hearn (Ivor Novello), Clive Dunstall (Norman Viney, pianist).
In 2005 Sir Cameron Mackintosh renamed two of his West End theatres after legends of British stage and screen. The Albery became the Noël Coward while the Strand is now the Novello Theatre. When Gertrude Lawrence died in 1952, the lights went out in London's West End and on Broadway.
In the courtyard outside Greenside @ Nicolson Square on Monday afternoon, the young usher announced loudly in a precise tone, that ticket holders for "Noel Coward and Friends Live in Las Vegas" should queue to the left side of the steps. But he mistakenly says Live, not Lie–ve, in Las Vegas.
At the start of the show, backstage at a Las Vegas theatre, Coward is annoyed that the American presenter pronounces his name Noel as in Christmas. But he may have been amused at the vision of Gertie, Ivor and himself living together in this Nevada hot spot.
The setting is Noel's dressing room before his performance – table and chairs, vase of flowers, bottle of Moet champagne and cocktail shaker. At the piano is Norman Viney (Clive Dunstall) in white DJ and bow tie. The year is 1959 where Noel was performing twice nightly shows to capacity audiences - a time to reminisce on his colourful, inspirational life and work.
This enchanting, illuminating show is a nostalgic tribute to his best friends, the actress Gertrude Lawrence and composer and matinee idol Ivor Novello, highlighting their life-long personal and professional relationship together.
David Robinson, immaculately dressed in a sleek black Tuxedo, is Coward to perfection, creating that inimitable, cool, classy manner with crisp vocal intonation. Cue the romantic song, "Someday I'll find you," leading into an extract from the iconic balcony scene in "Private Lives."
Noel wrote the role of the feisty, flirtatious Amanda for Gertie, his co-star in the timeless comedy featuring all those brilliantly witty lines, (very flat, Norfolk). He adored her grace, charm and irrepressible glamour, re-created here by Mandy Watsham Dunstall in a sequined ivory gown and evening gloves.
Sit back and enjoy a medley of songs, from the patriotic "London Pride" and humorous "Mrs Worthington" to Novello's romantic ballad, "We'll Gather Lilacs." This is a beautiful duet between Gertie and Ivor Novello … who is performed with elegant, debonair charm by Colin Hearn.
Not many people may know it, but the 1945 film "Brief Encounter" was based on Coward's short story, Still Life. David Lean would not allow the author to appear in the film as he thought he might overact. So, imagine if Gertie and Ivor had been cast instead of Celia Johnson and Trevor Howard with Noel as the station master. Come and see the show to observe this hilarious, alternative version.
This is not just a musical cabaret. It's a neatly-crafted theatrical show blending all those deliciously memorable Coward and Novello songs, witty stories, dramatised sketches, all presented with sophisticated style as sparkling as the Moet champagne they sip in Noel's dressing room at the Las Vegas theatre.
Like Coward himself, this quartet have a talent to amuse.
Show times
7 - 15 August, 2015 @ 4.05pm
Ticket prices, £10 (£9)