Image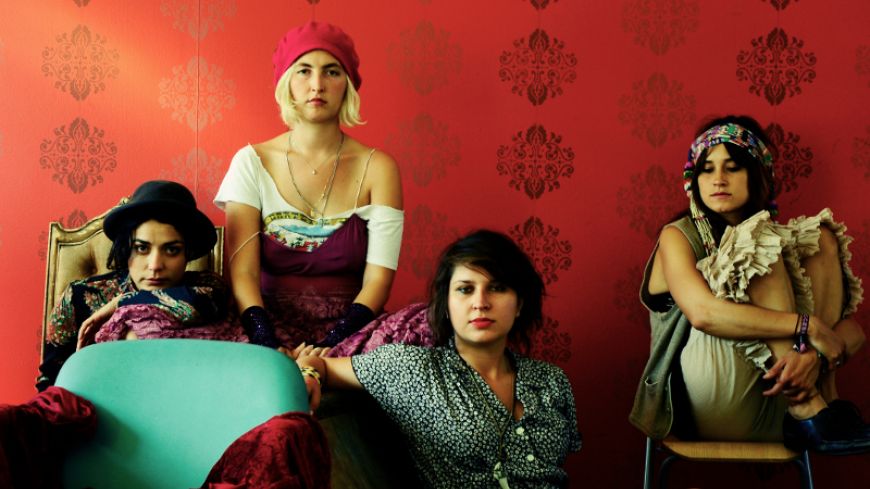 Had Warpaint played Edinburgh twelve months ago, they would most likely have checked in at Sneaky Pete's or Cabaret Voltaire. Not many people had heard of the Los Angeles all-girl four-piece, and they would have been perfectly suited to the intimate environs of Edinburgh's best smaller venues.
The release on Rough Trade last autumn of their debut album "The Fool", however, seemed to suddenly plunge Warpaint into the indie premier league. Feted by the music press and broadsheets alike, it's sold pretty respectably ever since in the UK while near disappearing without trace in the USA.
So here they are on a British headlining tour at larger venues, a gamble which has clearly paid off with an over capacity Queen's Hall. A sweaty, heaving, slightly pissed over capacity Queen's Hall at that. To be honest, beautiful though this old church space is, it never feels right for rock 'n' roll to be presented here. Whenever a gig like this takes place here, there's always a slightly nervous and unsure edge to proceedings and I can't help feeling the building is silently wishing for a swift return to the polite jazz, world and classical music which normally predominates the calendar.
Warpaint also manage to generate a few audience grumbles by taking some time to take the stage. It's never a good look to suddenly rush on, looking somewhat flustered, because a few audible "boos" have been heard. When they start playing, though, it's clear they're forgiven. The crowd clearly love them, although the high level of intoxication may be helping things along.
Warpaint's sound is based around early eighties New Wave spliced with a hint of Shoegaze and sprinkled with liberal dollops of The Police's shimmering reggae pastiche and the spidery spindle riffs of The Cure. Although hampered by a frankly dreadful sound mix which does its utmost to deaden their efforts, the interplay between the four members is finely honed and they eagerly careen and bounce off each other.
The actual songs, however, are somewhat limited in palette, one number being indivisible from another. Easily the gig highlight comes near the end as the quartet blast into an extended instrumental punk-funk workout which gets the audience boogieing down like it was 1981.
It remains to be seen whether this is Warpaint at their peak or if there are greater things to come, but they certainly, against several odds, manage to conquer the Queen's Hall tonight. A potentially loyal fan base may help them along, and the many ladies in the street outside discussing which band member they fancy the most emphasises they certainly have that!