Image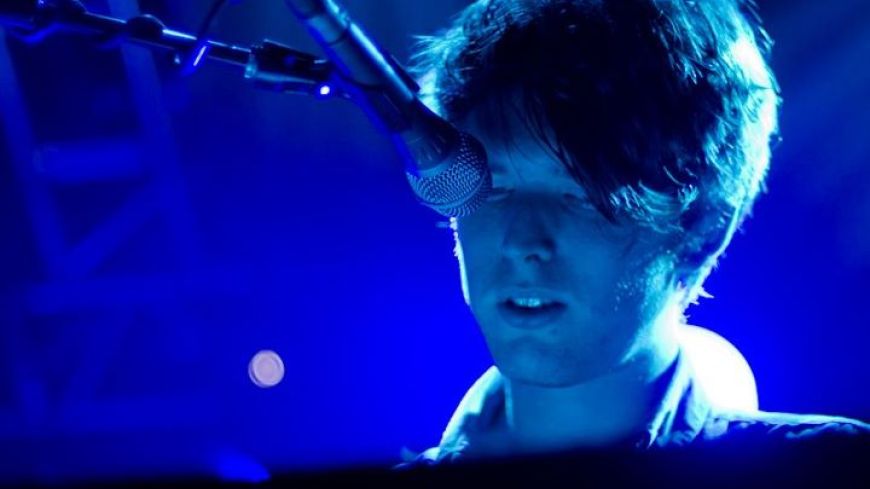 It is the day after the Edinburgh Fringe has ended. The streets are deserted and quiet. Where once there were endless lines of flyer-pushers and inflatable purple cows, there is now silence and scaffolding. It feels an apt night for the lonely hollow soul music that is the forte of one of the final acts on this years Edge of the festival.
The Liquid Room stage seems to have been directly copied from an early eighties edition of Top of the Pops. Glaring white lights, a double bank of keyboards and, most telling of all, a small drum kit complete with synth pads. I'm half expecting A Flock of Seagulls to waltz on. But instead we get the self-effacing presence of Mercury nominated James Blake parking himself behind the artificial ivories, with a guitarist and drummer following shortly.
Signed to a major label and with a university degree in popular music, Blake could very much be taken as the pleasant Radio 2-friendly face of dubstep. But with an intro of pastoral electronica worthy of legendary German composer Roedelius which then segues into clusters of Blake's own digitally chopped and screwed vocals, it's clear Blake is worthy of the critical praise that has come his way. In fact, he could almost be seen as taking the urban melancholic introspection of Nick Drake and transposing it onto 21st century musical idioms.
Much of tonight's short set ("We actually don't have that much music", confesses Blake) is taken from his self-titled album released earlier this year and is resolutely hauntingly downbeat, music for late night buses driving down rain-soaked streets. But a couple of instrumental numbers raise the tempo markedly, complete with colossal bass detonations which severely test the Liquid Room's sound system.
It's at these moments that tonight really takes off, as Blake howls wordless vocals atop the rush and momentum of beats and bass. Multi-hued lights strafe the audience and the singer-songwriter noose is removed from Blake's neck as the energised crowd is gleefully pulverised by sound.