Image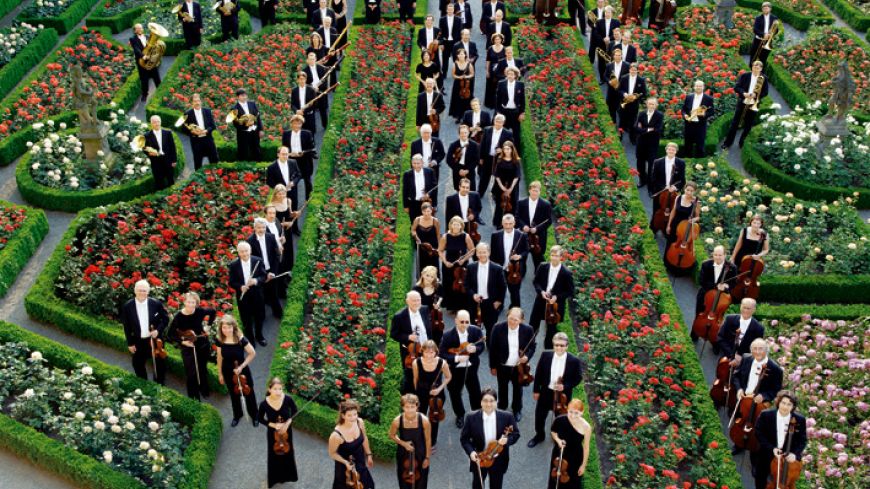 Company
Bamberg Symphony Orchestra
Production
Messiaen: Chronochromie, Sept Haiki; Bartok: the Miraculous Mandarin
Performers
Jonathan Nott (conductor), Pierre-Laurent Aimard (piano), Edinburgh Festival Chorus (chorus master Christopher Bell)
The Bamberg Symphony Orchestra is well-remembered from its five-concert residency at the 2003 Edinburgh International Festival. Neither memories nor growing repute from widespread touring were sufficient to draw a reasonable-sized audience to the first of its two concerts closing the Usher Hall run in the 2011 Festival.
The choice of programme could have been a determining factor. An evening devoted solely to Messaien and Bartok is not a sure crowd-puller.
That is no criticism of the orchestra or its English conductor Jonathan Nott, who has just extended until 2015 a tenure as principal conductor begun in 2000. Nott encouraged and controlled the players admirably in the opening item, Messiaen's Chronochromie.
The work encapsulates two ideas – time and colour – and demands a big orchestra, with the usual percussion section enlarged b y gongs ,bells, glockenspiel, marimba, cymbals and xylophone. For Messiaen sounds had colour and time was expressed by rhythm and duration.
Chronochromie, commissioned for the 1960 Donaueschingen Festival, has seven movements exploring permutations of 32 different values with distinctive passages allocated to varied instrumental combinations. In this seeming chaos the full orchestra would burst forth, repeating one note with a harshness, stridency and volume that put a strain on the listener before subsiding into pianissimo and silence.
The orchestra produced every twist and turn in the score, from "twittering" sections – reflecting the composer's lifelong interest in bird song -- to "off-key" combinations with accurate sound and precise timing.
Messiaen was a complex character – composer, ornithologist, church organist (for 60 years at Holy Trinity in Paris) and teacher. His spell as Professor of Harmony at the Paris Conservatoire may have had more influence on the development of modern music than his compositions – his students included Stockhausen, Boulez, Goehr, and Kurtag – though he was the first composer to use an early version of an electronic keyboard.
The second item in the Bamberg concert, a work giving Messiaen's musical vision of seven Japanese Haiku (poems) was dedicated "to the music and to all the birds of Japan". A much shorter but more complicated piece, Sept Haiku was played by seven violins, six percussion, a handful of brass and woodwind and a piano.
The piano solos were expertly played by Pierre-Laurent Aimard, who studied under Messiaen's second wife. Aimard has been acclaimed in America as a "champion of contemporary music" and a supreme interpreter of Messiaen's works.
Certainly he seemed at ease in the Usher Hall, particularly in more thunderous parts, sometimes punctuated by or in contest with equally forceful xylophones.
Bartok's one-act Miraculous Mandarin pantomime was written amid the turmoil in Hungary at the end of the First World War. A planned stage production was banned because of the subject -- in an outwardly sordid tale, three thugs force a young girl into prostitution.
She has three clients – an old rake, a nervous young student, and the Chinese mandarin. She flees the mandarin in revulsion but he catches her, the three thugs attack, rob and fatally wound him. He refuses to die, pleads with the girl with love and longing, her revulsion succumbs to love, she satistifies him and he dies.
Bartok later prepared a truncated version for a non-staged performance but Jonathan Nott used the original full score.
Against a gritty background of city noise, each of the protagonists had a separate instrument – rough brass for the old rake, tentative oboe and deep bassoon for the student, clarinet for the girl and percussion for the mandarin.
Nott wove all the disparate threads – including some of Bartok's most discordant music – into a masterly whole. The piece was colourful, the orchestra responsive and the sound electrifying.     An extremely enthusiastic audience were vocal in appreciation.
This reviewer (at one with the overall approval) felt sorry for the Edinburgh Festival Chorus. More cramped than usual in the Organ Gallery with the entire large percussion section filling the front rows, they sat mute throughout until a very brief wordless chorus in the finale.
Event: Friday, September 2, 2011