Image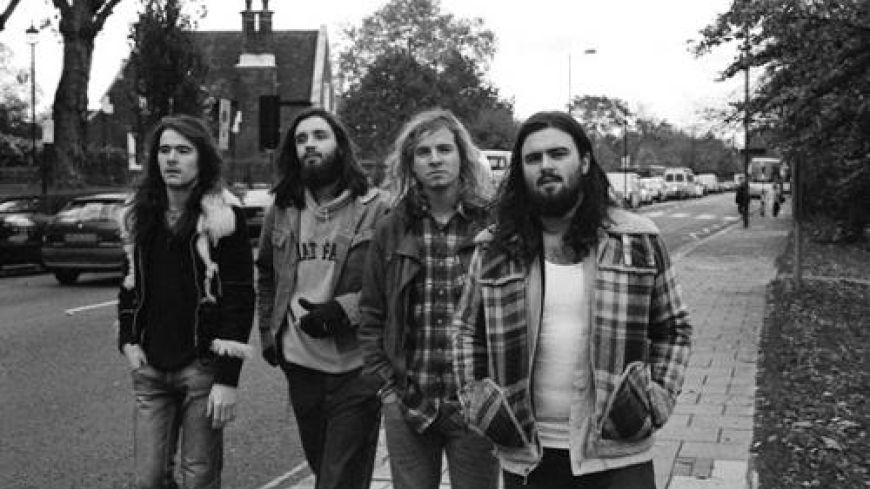 Performers
Barry James O'Neill (guitar), Lewis Andrew (guitar), Hamish Fingland (guitar), Chris Potter (guitar)
A friend and I caught the end of Kassidy's set in King Tut's on Saturday at this year's T in the Park. We liked what we saw, and confidently agreed with each other that they were clearly from the West Coast, most likely California. Well, we were sort of right – they are definitely from the West, but it's not so much LAX as the other end of the M8.
Kassidy are a four-piece guitar band from Glasgow (and when I say guitar band, I really mean guitar band – but more of that later) and with all four boys sporting long manes, with a couple of fairly impressive beards to boot, we could be forgiven for the confusion. There's a definite retro vibe in the way the band look, and there have been comparisons to the likes of Crosby, Stills and Nash, but there's a lot more to Kassidy than 60s nostalgia, as I discovered on Monday evening at the Electric Circus.
The band's line-up consists of guitarists – they may dabble with percussion instruments and keyboards – but this is a band all about the guitars. I was a bit worried that this could either look like synchronised strumming or string carnage, given the size of the stage, but thankfully these boys all knew what they were doing and it all works.
The all-acoustic line-up lacks nothing in power, and even as a non-musician, it's very easy to hear how well the different guitar sounds blend together. Another unusual aspect to the band is the fact that they share vocal responsibility, which thankfully makes them sound nothing like Westlife, and allows the band to vary their sound even further.
Kassidy have just released their second EP – The Rubbergum EP volume 2, and Monday's set covered the track listing from that, plus some earlier material, including 'Yeah', 'Take Another Ride', 'The Traveller' and 'Night in a Box'. Shortly before the end of the set, the four piece became a six piece as they were joined on stage by Kieran on drums, and the band's producer Thomas on bass. The set closed with a rocking rendition of their debut single 'Stray Cat', which was a great end to the evening.