Image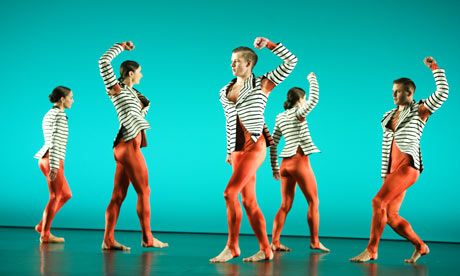 Company
Michael Clark Company
Production
Michael Clark (choreographer) Charles Atlas (lighting), Bruce Gilbert, Wire, David Bowie, Brian Eno, Iggy Pop, Lou Reed (music)
Performers
Kate Coyne, Melissa Hetherington, Oxana Panchenko, Benjamin Warbis, Clair Thomas, Simon Williams, Ellen van Schuylenburch, Stephen Beagley,
Walking down to my seat in the front stalls, I quickly see that the Playhouse is packed up to the Gods. The chill out-casual ambience doesn't seem like an Edinburgh International Festival performance, more like a rock gig. Michael Clark would no doubt be pleased. His passion for combining classical ballet with post punk music has always pushed the boundaries of contemporary dance with his rebellious "bad boy" trademark. In the theatre foyers and corridors are printed A 4 posters, "This performance includes loud music and partial nudity."  You have been warned.
The programme of two works spans nearly 25 years of Michael Clark's choreography, from vintage 80s to late noughties.  Swamp was commissioned by Ballet Rambert in 1986 when it was hailed as a masterpiece, the work of a young genius. Its revival in 2004 received the Olivier Award for best new dance production.  Here is Swamp again, fresh, dynamic, electrifying in movement, music and pure light backdrop.
With a soundtrack from Wire and Bruce Gilbert, eight dancers, dressed in navy blue costumes, create a cool, coherent ensemble. At times athletic in form, it shifts in an instant into neat balletic duets and solos. The music featuring discordant, fragmented sounds like breaking glass, creates a haunting rhythm which leads and controls the fluent, flowing movement.
The new work, "come, been and gone" is inspired by Clark's admiration for the music of 70s rock gods David Bowie, Iggy Pop and Lou Reed. Ten key tracks are played at full volume through ten distinctive quick costume changing scenes. Six androgynously-dressed figures parade in graceful diagonal lines showing off slender body shape, curved back and exaggerated arabesque.
A highlight is "Heroes" with a giant image of a Bowie 1977 music video on screen behind the dancers (dressed like Bowie lookalikes in black leather).  The glamorous finale to "The Jean Genie" is a magical mishmash of classic en pointe, disco and vaudeville dance routines with the company dressed in sparkly gold leggings and striped jackets.  Another choreographic masterpiece from Michael Clark whose company performs with perfect synchronisation and style.
Times: 28-31 August, 8pm.